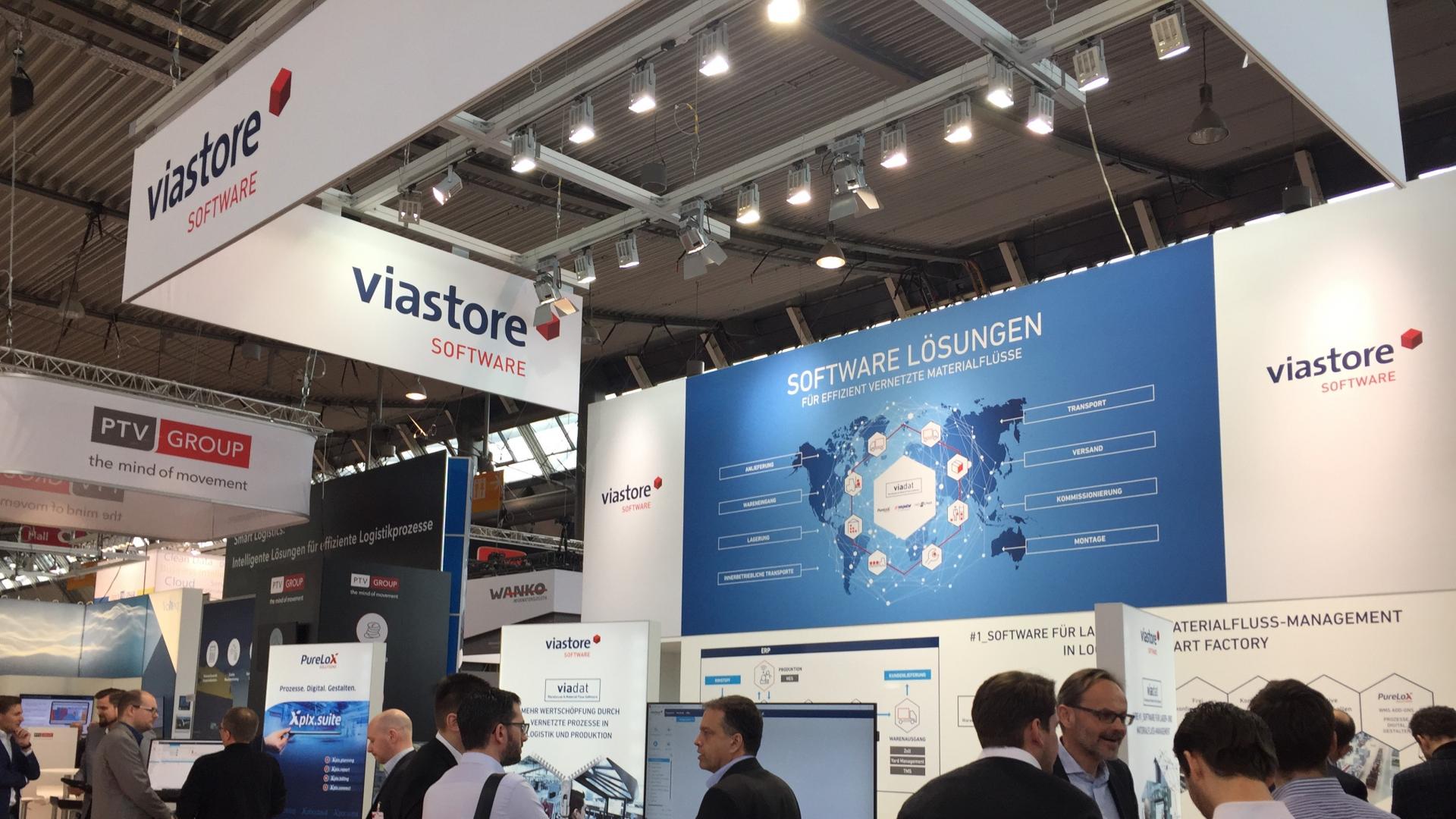 viastore

SOFTWARE at LogiMAT 2022
viadat

- more than a WMS. Productive, international, networked.
LogiMAT will take place from 31 May - 2 June 2022 and we will of course be there.
The International Trade Fair for Intralogistics Solutions and Process Management sets new standards as the largest annual intralogistics trade fair in Europe. It is the leading international trade fair that offers a comprehensive market overview and competent knowledge transfer. Visit us at our stand and experience our software solutions up close.
You will find viastore SOFTWARE in Hall 8, Booth D 05
Innovative Neuerungen rund um das WMS
viadat

:

viadat

VISION
viastore SOFTWARE stellt auf der LogiMAT 2022 unter anderem sein Entwicklungsprojekt viadatVISION vor. Damit erhält der Anwender im ersten Schritt Push-Nachrichten über Ereignisse in seinem automatischen Logistikzentrum, wenn es mit viadat gemanagt wird – in der kompletten Ausbaustufe dann einen umfassenden Überblick über sämtliche Vorgänge und KPI seiner Lagerlogistik sowie der Produktion, ganz gleich, welche Software diese Bereiche steuert.
viadat

VISION: für einen umfassenden Überblick über Ihr Lager
Das WMS viadat managt und steuert die Prozesse der gesamten Intralogistik vom Wareneingang über Fertigung und Montage bis zum Versand. Mit viadatVISION schafft viastore SOFTWARE eine ideale Ergänzung: Proaktiv erkennt es, an welchen Stellen Komplikationen auftreten, benachrichtigt den Anwender mittels Push-Nachricht und gibt Handlungsempfehlungen ab.
Es visualisiert das Lagersystem, die Produktion sowie die Materialflüsse und deckt mittels einer detaillierten Anlagenanalyse Schwachstellen auf. Damit entlastet sie die Mitarbeiter, da sie nicht mehr selbst nach dem Problem suchen müssen.
Sie wollen mehr erfahren? Dann  besuchen Sie uns auf der LogiMAT in Halle 8, Stand D 05.
Visit also the booth of our sister company
viastore

SYSTEMS
Are you also interested in our other intralogistics systems? Then visit viastore SYSTEMS in Hall 3, Booth C 29.
Click here to order your ticket: Free ticket for viastore SYSTEMS
You need tickets for LogiMAT 2022? We will send you the codes free of charge