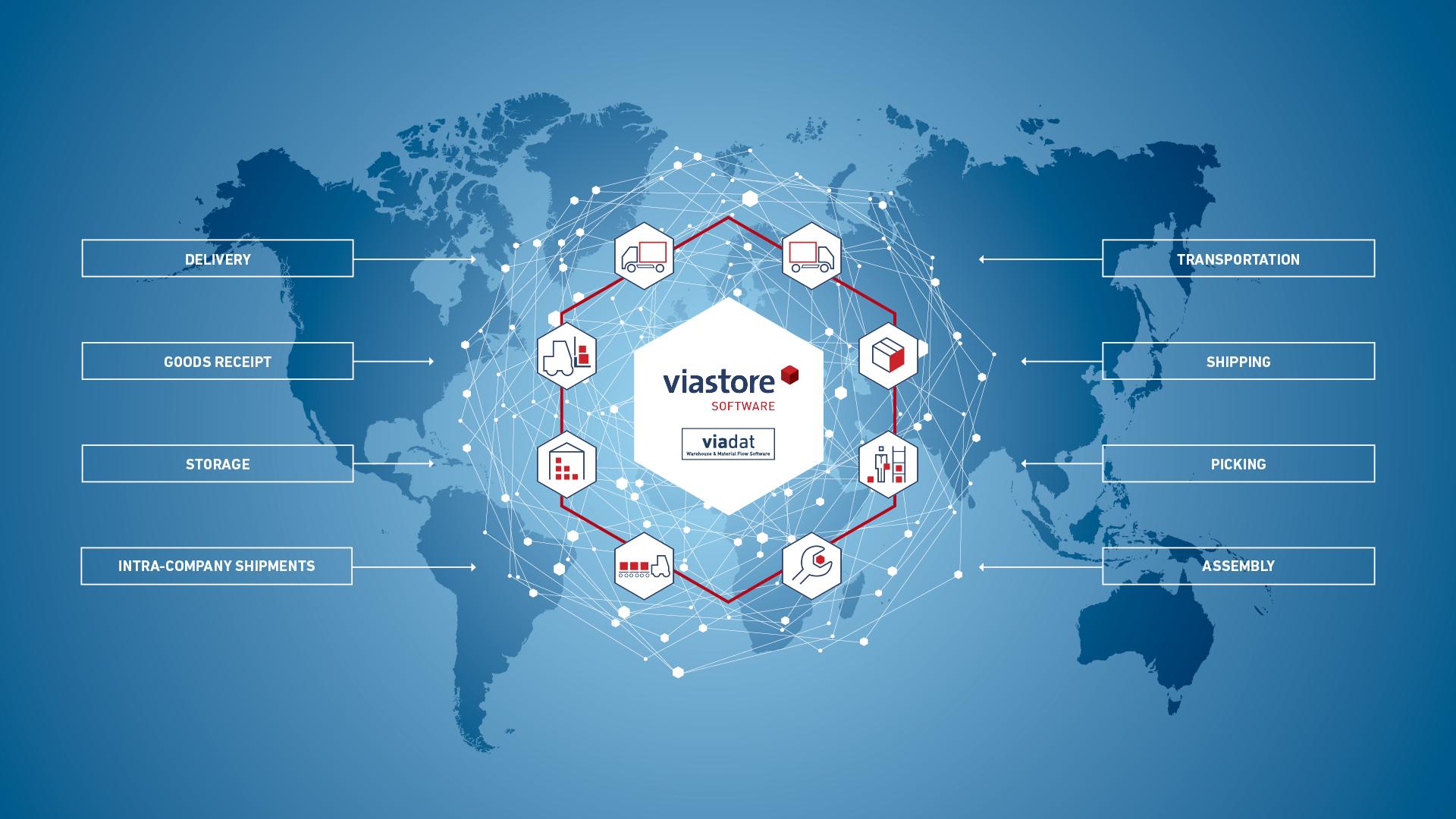 What do I need
viadat

for?
viadat

facilitates your warehouse management and the internal transport of goods
The certified standard software viadat is suitable for all intralogistics tasks in production and distribution logistics. The modern and intelligent WMS supports you in managing intralogistics and controlling all your internal material flows to machines and production lines (production supply and disposal) up to the dispatch of the finished product. viadat not only allows you to reduce throughput times, optimize delivery quality and adherence to delivery dates, but also to sustainably reduce error rates and to manufacture even smallest batch sizes economically.

The application of the warehouse management software offers you the possibility to minimize warehouse and buffer stocks, to create space for value-adding processes and thus to increase production output. This provides you with clear competitive advantages and turns your logistics into a value-added factor.
Fast, transparent and secure incoming goods process

Control of goods movements

Optimal utilization of storage capacities

Efficient production supply

Reliable management of inventories and orders

On-time order processing and dispatch of goods
Challenges in distribution and production logistics
Global trends have a direct influence on distribution logistics. In addition to the desire for a large variety of articles, maximum availability, flexibility and the shortest possible delivery times, these are also low storage, transport and energy costs. Digital distribution through e-commerce and the mobile Internet require powerful multi-channel logistics solutions and reliable internationally oriented 24/7 order processing. Added to this are customer-specific delivery conditions such as special packaging. In order to successfully master these challenges, the application of intelligent warehouse management software that can be used across all industries is required.

While distribution focuses on the optimal connection to the customer, production is particularly dependent on an optimal internal material flow and the greatest possible material and process transparency. Increasing cost pressure in energy and transport costs and growing customer demands for small batch sizes with short delivery times, a high number of variants and a short product cycle as well as traceability require a fast, flexible and efficient production supply.

This is where our warehouse management software viadat comes into play. You can only meet all of these requirements by using modern, high-performance software that optimally controls and networks the processes along the entire material flow. viadat guarantees optimal process control along the entire material flow.
Learn more about our software
viadat
viadat
9: Leading software for warehouse management and integrated material flows