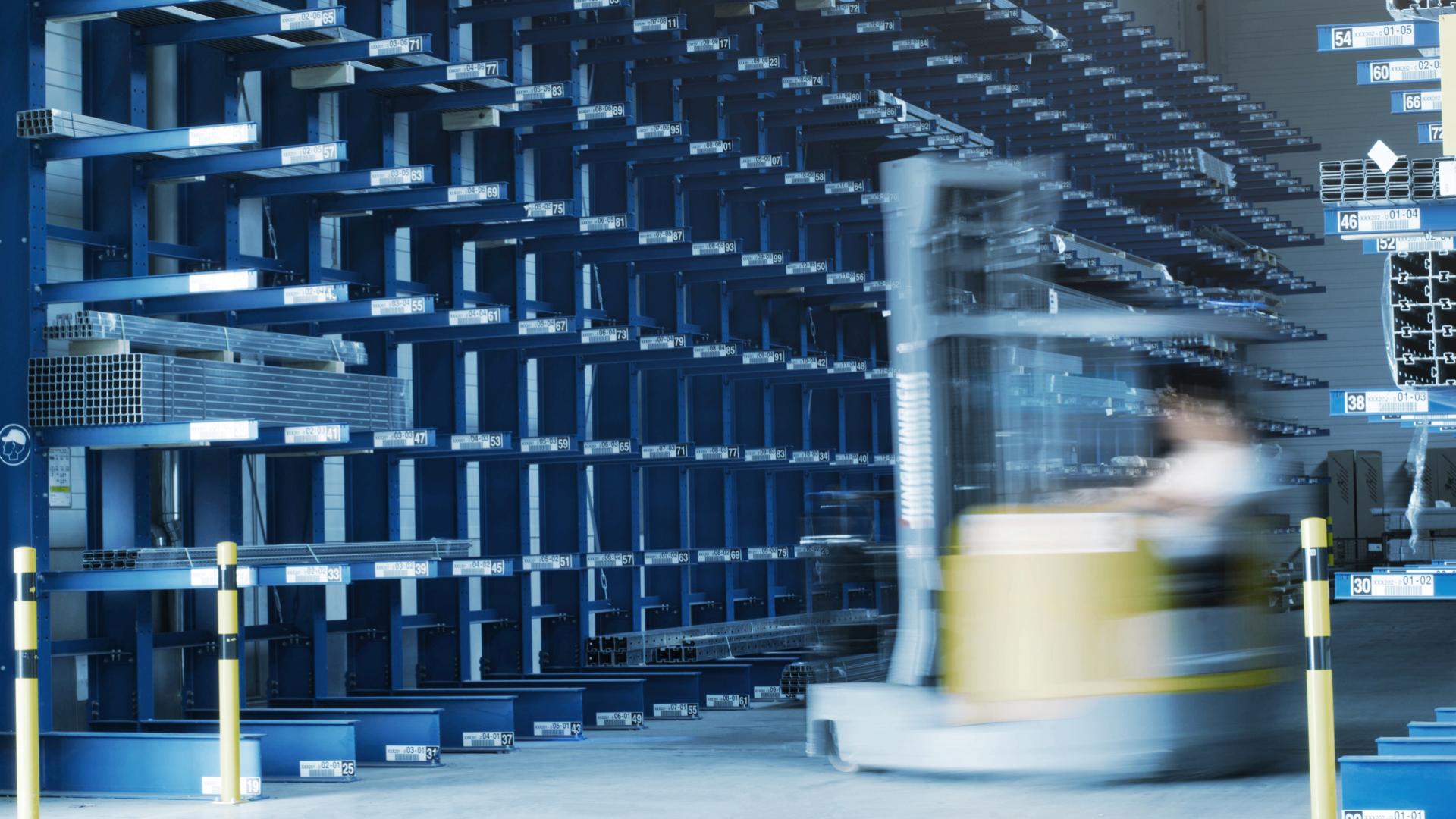 What is the benefit of
viadat

?
viadat

ensures your competitiveness
From conventional manual or forklift operated systems to highly automated systems: viadat controls and manages all tasks, processes, material flows and transport along the entire value chain. The Warehouse Management System (WMS) enables you to achieve shorter throughput times, higher efficiency and process reliability and highest picking quality.                                                                                                                                              

viadat has a standard interface to all common Manufacturing Execution Systems (MES), from which the manufacturing industry in particular benefits. Logistics and production processes can be linked via this interface. This paves your way to a Smart Factory, enables more transparency, shorter throughput times and a real traceability of goods, even in the smallest sizes.
Shortened processing times

Minimized stock and current inventories

Optimized delivery quality and adherence to delivery dates

Sustained reduction in error rates

Increase in production output and employee motivation

Improvement of transparency, efficiency and process reliability
A warehouse management system for every requirement and task
The software is precisely tailored to the requirements of your intralogistics. You want maximum throughput speeds and economical production of small batches in industrial manufacturing? Are you dependent on short delivery times and flexible processes in retail and wholesale? Do you need error-free storage and the highest possible safety in the chemical and pharmaceutical industry? Our WMS viadat supports you in this!

In all of this, the focus is on the benefits for the software users in the various work areas. Our claim: simple operability. The result: Anyone who can operate a smartphone can also operate viadat – regardless of education, origin, experience or usage behavior. 
Ergonomics and usability for the warehouse worker
For the warehouse worker, the benefits of viadat lie in the high ergonomics and usability which reduce errors and increase performance. All software dialogues are structured in a simple and clearly understandable way and lead step-by-step through the individual work steps. The dialogues and lists are structured in the same way on all devices and can be operated intuitively.
An overview of the work progress and personal performance increases the motivation of the employees. All important information is displayed situation-dependent and automatically according to the push principle. Minimal training is required to operate the user-friendly software. In addition, viadat prevents incorrect entries and unauthorized functions.
Quick and clear information for the maintenance staff
In maintenance, it is particularly important to detect critical operating states at an early stage and to quickly locate and eliminate faults. For this purpose, employees need a quick and clear view of the system. viadat enables detailed operating data analysis and optimal data visualization. The software supports effective troubleshooting and data correction. Your benefits are thus the increase and optimal utilization of the service life of your systems and machines.

You will find additional support for the maintenance of your systems in viadatALERT. The app sends you messages from viadat directly to your smartphone or tablet and not only informs you about incidents in your warehouse but also provides recommendations for action.
Sound planning support for the logistics and production manager
For logistics and production management viadat is a well-founded planning and decision support tool. Performance, occupancy or material flow data and processes are recorded and displayed in real time. This ensures continuous traceability and warehouse resources can always be used optimally.
In this way you increase process reliability and productivity in warehouse and distribution. With the freely configurable dashboard, everything important remains in view. You can clearly display all the key figures you need for planning and controlling your logistics. If required, the view can be easily and individually adapted.
Fast implementation and easy configuration for the IT manager
Thanks to platform and system independence as well as open interfaces, viadat can be easily integrated into existing IT landscapes and connected to all warehouse technology. Agile project methods during implementation and high configurability reduce the implementation effort.
Another benefit is the convenient configuration using a wizard. Thanks to its scalability and modular structure, viadat offers easy expandability of functions, warehouse types, areas and technology, interfaces and locations as well as picking systems. Software updates are possible at any time. A simple and transparent licensing model, time and cost savings thanks to cloud application as well as an international 24/7 helpdesk are also decisive benefits for IT managers when choosing the right software.
Process optimization, transparency and investment security for the top manager
For the top manager, three criteria are decisive when deciding on a software: transparency of everything running in the warehouse, process optimization and investment security. viadat is internationally proven and certified several times.
Due to the continuous functional and technological development of our standard WMS we help you to continuously optimize your processes. Another benefit of viadat is the full price transparency: Costs for implementation, licenses, adjustments, and maintenance fees are clearly itemized. Short ROI times and the high usability additionally guarantee a high investment security.
Learn more about our software
viadat
viadat
9: Leading software for warehouse management and integrated material flows