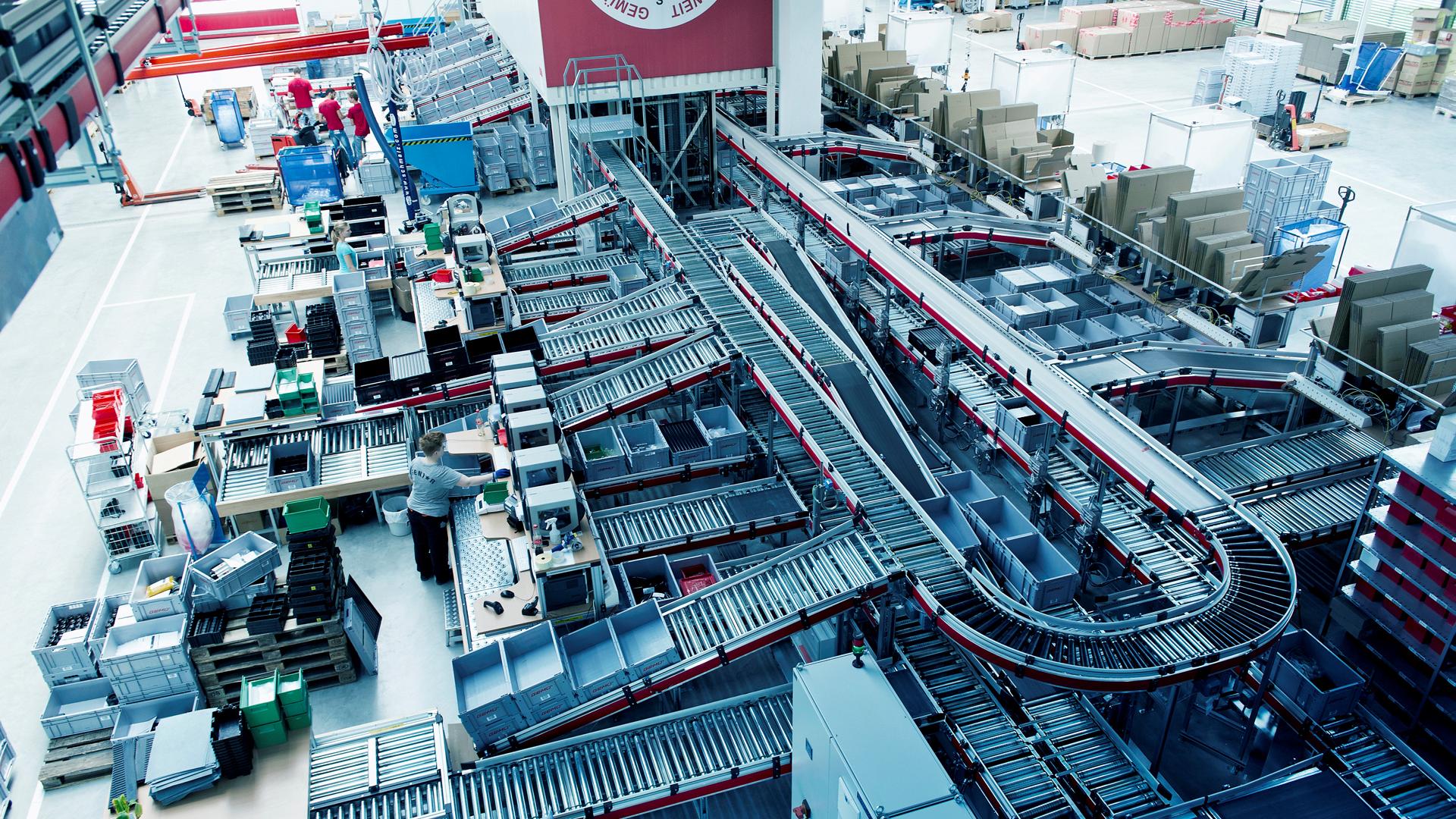 Logistics efficiency in the omnichannel business
Warehouse and material flow software streamlines processes along the supply chain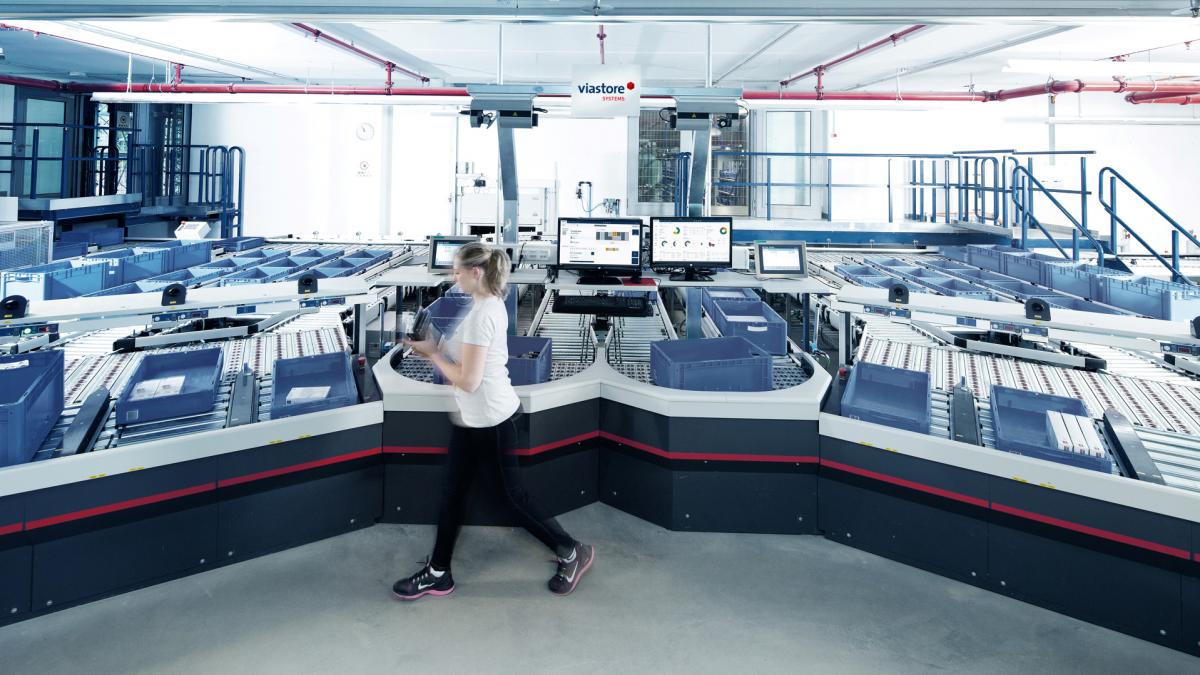 The end-to-end digitalization of processes in logistics and manufacturing and the support of staff through software tools enable noticeable increases in efficiency to be achieved in industry and commerce. Even today, this networking in conjunction with autonomous, self-controlling units considerably simplifies processes. Current trends are to optimize and integrate all processes and, above all, to make them intuitive for the user.
Omnichannel approach opens up numerous new possibilities
An important task in logistics is to map the omnichannel business – meaning the synergistic planning, controlling and monitoring of all available sales channels and points of customer contact – in a manageable way. In the omnichannel business, purchase orders are received via online shops, via apps or by means of scheduled orders from stores or sales representatives via the ERP system. Customer service and returns handling are performed more and more frequently online as well. The great advantage of this concept is that the aspects of "when" and "where" no longer play any role. Internet and smartphone, laptop or tablet PC make for virtually unlimited technical possibilities: Companies can offer their entire product range across all ordering channels. This means that customers are particularly flexible and not limited to just one such channel. For example, they can order goods online and pick them up directly from the store. However, creating new opportunities in sales and providing a service that is markedly user-friendly and convenient for customers poses a huge challenge in terms of logistics. Manufacturers, distributors and service providers need to be extremely flexible, respond to customer requests in real-time, ensure on-time delivery and still make a profit even with orders of batch size 1. In addition, seamless transparency is required – after all, customers want to be able to track their goods online from manufacturer to supplier to their own door step – and above all they want to be able to check the availability of products in real time.
Software ensures smooth processes
In addition to high-performance sortation technology, software is crucially important to ensure particularly efficient, end-to-end returns handling and the efficient processing of goods. The viadat warehouse management and material flow software from viastore SOFTWARE, for example, flexibly organizes, prioritizes, controls and processes purchase orders received via the various channels. It also manages warehouse technology such as shuttles, automated storage/retrieval systems, the conveyor system, sorters and other mechanical components and controls and visualizes complex material flow systems.
In warehouses and distribution centers, where a large proportion of processes are already automated, the software intelligently pre-calculates all procedures, storing order data in databases that can be processed according to specific strategies. Employees can view all information in real time. Flexibility plays an important role, so that, for example, rush orders can be processed reliably and quickly. Here, continuous process and inventory monitoring ensures the consistent traceability of goods. Request management is followed by order picking and consolidation. Ultimately, the warehouse management system (WMS) also handles packaging, shipment and delivery confirmation. Moreover, it manages order utilization throughout the day. After all, not every order is a rush order. The WMS also takes into account the collection dates by CEP service providers or forwarding agents and synchronizes orders accordingly. In the case of goods receipt, the software manages, among other things, the notification, receipt and deconsolidation of the delivered goods. Furthermore, viadat triggers quality checks, manages master data, controls storage and returns management, and ensures complete inventory confirmation.
Customers want their money refunded immediately, so the retailer must check without delay whether the shoes have been worn or whether the PC is really still in delivery status. The WMS controls these processes by corresponding with the ERP system and, for example, releasing the amounts for remittance after an employee has checked the returned goods. In addition, it immediately sends the goods back to the inventory, assigns a suitable storage location and ensures efficient transport there, thus making them immediately available for resale. Internal warehouse processes are linked to this. Here, the warehouse software controls inventory relocation and replenishment and autonomously carries out transfer postings. This ensures smooth execution without time loss. Other core tasks include cycle counting and control station functions. Here the logistics manager uses a tablet PC, smartphone, laptop or desktop with flexibly configurable dashboards to keep up to date and control all situations and processes in the warehouse via real time information, as well as making forecasts and planning resources for the future.
The right IT becomes a key factor for success
To be successful in the omnichannel business, it is important for companies not only to have highly efficient warehouse management and material flow software, but also to integrate the new system including add-ons seamlessly into their existing environment. Ease of use also plays a major role: Staff must be able to immediately cope with the changed situation and perform work processes as intuitively as possible – without long-term familiarization periods or time-consuming training. Augmented reality is therefore another topic which is useful in omnichannel business. Using mobile devices such as tablets, smartphones or data glasses, employees receive visual assistance that helps them to carry out the work steps correctly. The end device not only provides visual guidance, but also collects technical data. Workloads are eased and so employees can concentrate fully on their tasks. Standardized interfaces are further success factors for effective interaction in the omnichannel business as they allow the terminal device to be easily networked to the central ERP or warehouse management system. Cross-platform communication between mobile devices and ERP ensures fast and smooth processes and an efficient value creation process.
By way of combining suitable warehouse technology, the right software and new picking methods, today companies with an omnichannel strategy can achieve outstanding results in terms of cost-effectiveness and efficiency. However, it is vital that all components are optimally matched to each other. Only in this way can the needs and requirements of both the company and the end customer be fully met.