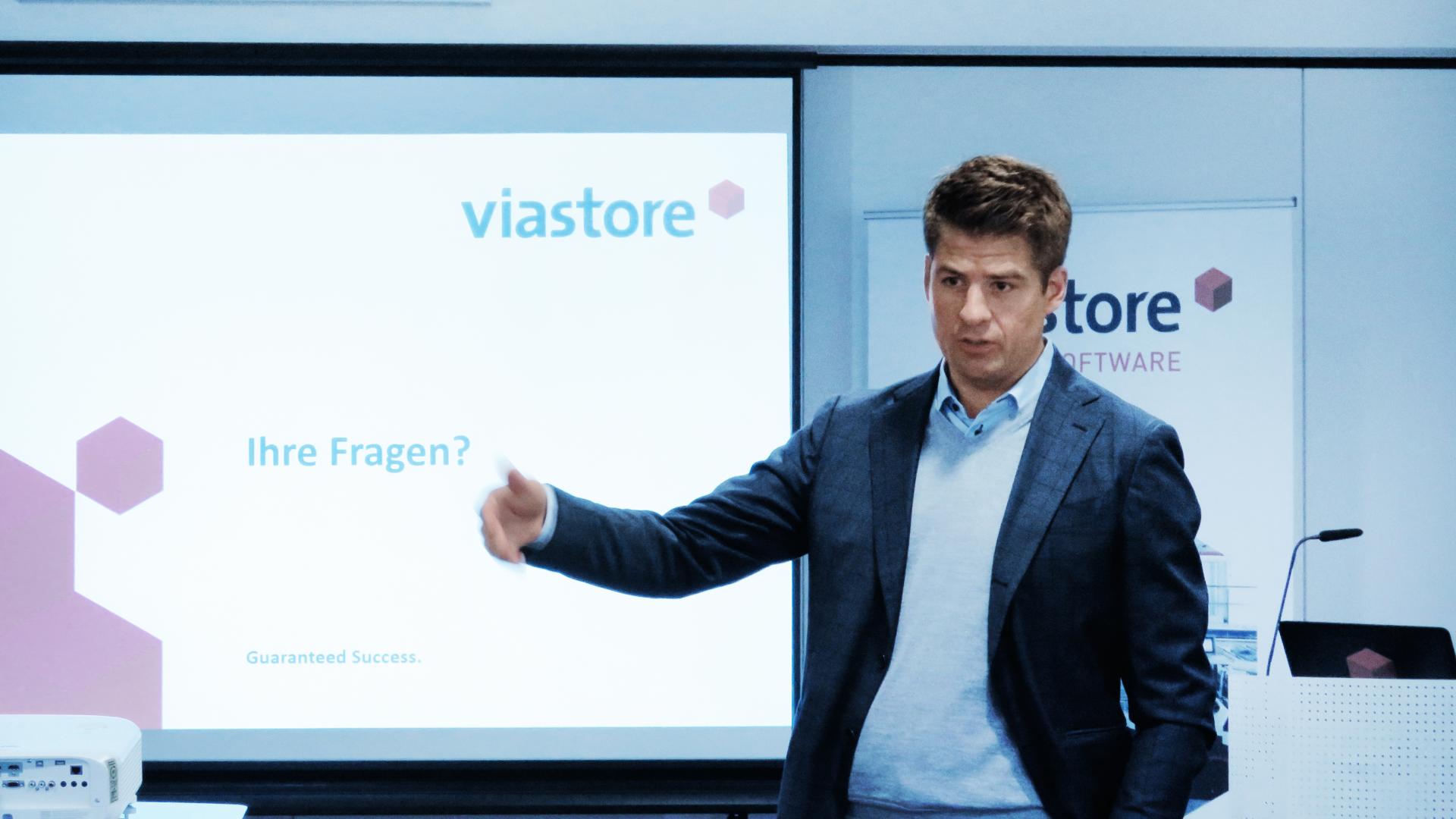 Continued success with systems, software and services
Satisfied customers and the road to the Smart Factory
viastore, an international group of companies headquartered in Stuttgart, Germany, has recorded growth in both order intake and revenue in 2019 and is looking forward to 2020 with optimism. This was announced by CEO Philipp Hahn-Woernle in late November at the company's annual press event, which this year took place at VACOM Vakuum Komponenten & Messtechnik GmbH in Großlöbichau, near Jena. "Irrespective of the volatile economic situation, intralogistics is a stable industry," summarized Philipp Hahn-Woernle, adding that in addition to viastore's international presence, the growth of his company is based on innovative solutions, a clear industry focus and close proximity to customers.
Paving the way to the Smart Factory with WMS and MES
There was a good reason for holding this year's event at VACOM: The intralogistics expert implemented a milestone project for this customer. With the introduction of its warehouse management system (WMS) viadat, including the standard interface to the Manufacturing Execution System (MES) HYDRA from MPDV Mikrolab GmbH, viastore is helping the manufacturer of vacuum components to change its production into a "Smart Factory". The combination of WMS and MES enables users to benefit from lower WIP inventories, shorter throughput times, full traceability of goods and economical production of even the smallest batch sizes. "By effectively integrating all areas and their material flows using WMS and MES, we are surpassing the traditional boundaries between logistics and production," stated Dr. Harald Göbel, COO of viastore SOFTWARE.
VACOM is not the only customer for whom viastore brings its expertise into operations. "Whether fully automated, semi-automated or manual warehouses – our order books are filled with a range of diverse projects," Göbel continued. For example, in the semi-automated warehouse of a food processing company, the viadat WMS was introduced to control autonomous forklifts. "At yet another company, we replaced a third-party WMS that was unable to keep pace with the company's growth with viadat 9, thereby creating lean processes along the entire value chain," Göbel said. He also gave an insight into current viadat development projects, among them viadat VISION. This is a desktop or mobile app which can visualize the material flows of an automated warehouse system, display issues via push messages and recommend solutions. The new product, which will be compatible with the automated storage systems of all manufacturers, can be operated intuitively. It helps operators to react more quickly and thus further increase their delivery reliability. The app will be presented to the public for the first time at viastore's Software Day, to be held on 22 January 2020 in Stuttgart. There, viastore and its partner companies will be showcasing further innovative software solutions for logistics efficiency and the Smart Factory. The event is geared toward plant, logistics and IT managers and other decision makers in industry and trade.
Technology independent partner for industrial companies
In 2019, viastore SYSTEMS further strengthened its focus on the manufacturing industry, demonstrating extensive Industry 4.0 expertise in a number of projects. "In Germany in particular, we have implemented many projects in this sector," says COO Detlef Ganz. Offering technology-independent planning, reliable implementation and intensive operational support, the company enables its customers to achieve further growth. The strategic partnership with prismat, which has been in place since 2017, is also continuing to bear fruit. Supplied by viastore, the automated warehouse system used by WISKA Hoppmann GmbH features state-of-the-art SAP EWM from prismat which manages the warehouse and production processes and controls the material flow. viastore plans its new systems using virtual and augmented reality technology. In this way, for example, material flows can be checked, workflows optimized and weak points identified at an early stage. This increases the quality and efficiency when implementing systems, reduces risks and enables the design of particularly needs-based concepts.
viastore was also able to provide support when it came to modernizing the production warehouse of power tool manufacturer customer Metabo. "Even though this is a comparatively small warehouse, the impact would be immense if the technology didn't run smoothly," explains Ganz. If the system failed, the production lines would come to a standstill after four hours. The retrofit was implemented within three weeks and will ensure the availability of the production warehouse in the long term. viastore thus provides its customers with clear competitive advantages, both with its system solutions and its software.