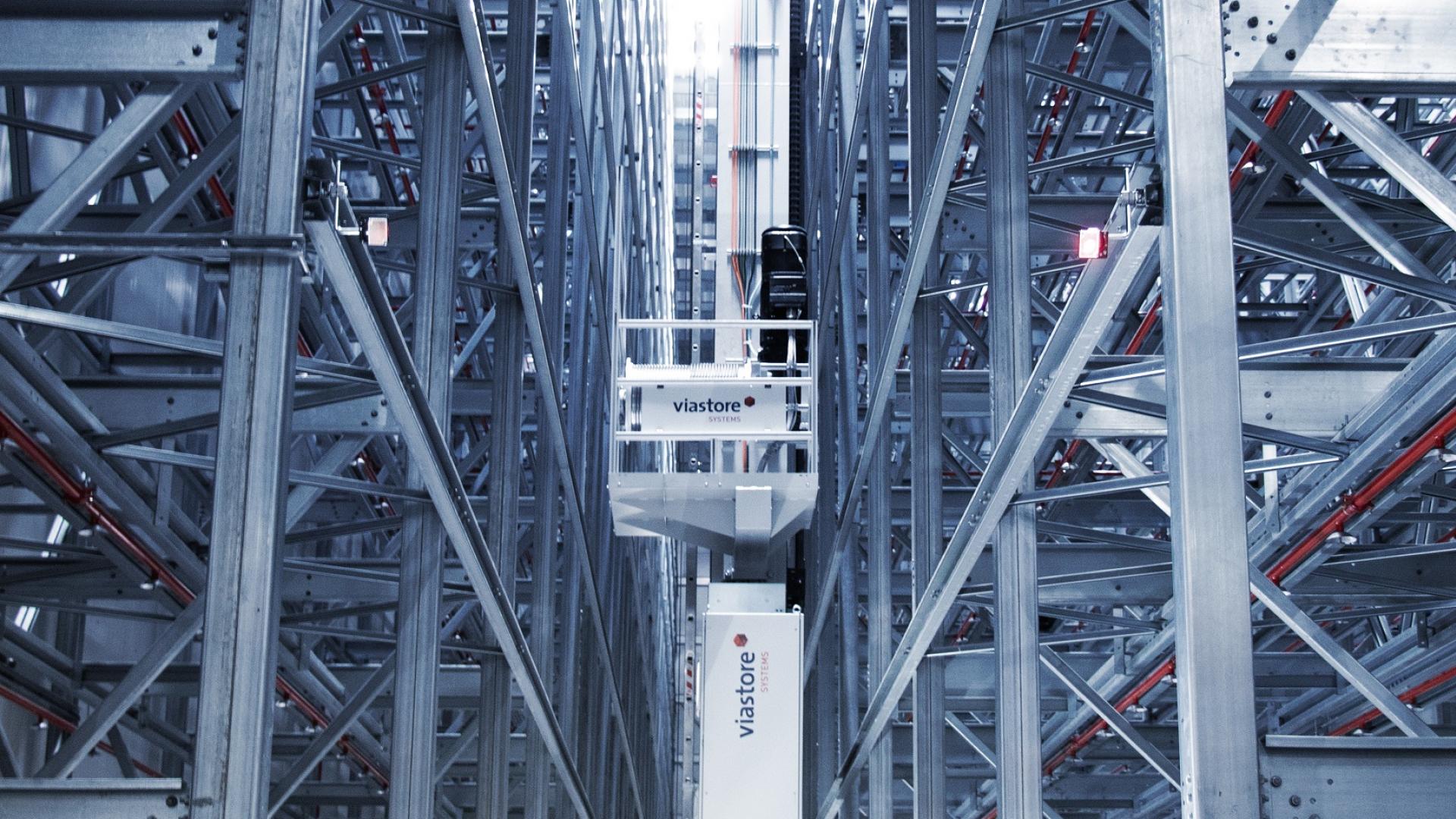 Stacker cranes
Maximize performance in the warehouse
viapal, viaspeed, viaspeed XL - storage and retrieval systems from
viastore
The storage and retrieval cranes exclusively from viastore are the perfect solution for your warehousing needs. No matter whether you only need the stacker crane itself, an associated control system via PC or PLC - or a complete logistics system with transfer stations and conveyor technology, viastore can help. You define your needs, we deliver the solution. This includes reliable service, starting with planning, designing, and installation continuing into a lifetime partnership. Our service offers round-the-clock monitoring and support plus continuous maintenance and modernization of your storage and retrieval systems.
viastore solutions offers you maximum flexibility in the technical design of stacker cranes. With numerous adaptable options for load handling devices, you can precisely and effectively manage any type of goods. The ASRS cranes can pick up loads that are stored single or multiple deep in the rack, with several load handling devices, as a single-mast or double-mast solution.
viapal - strong and resilient for automatic pallet storage
viapal is a high-bay stacker crane that can handle aload weighing up to 6,600 lbs (3.000 kg). It can be equipped to handle a wide variety of goods- regardless of the height of your warehouse or the storage position of your goods. Using viapal, you always have easy access combined with high performance. The dynamic travel drive with vibration-optimized travel curve enables travel speeds of up to 787 ft/min (240 m/min).
The high-quality, durability components of this pallet crane ensure low maintenance costs. The viapal can be used in multiple areas ranging from sorting, production and assembly buffers,  manufacturing,shipping/receiving, spare parts and flow storage etc.. In every application, you benefit from the modular design: It makes the storage and retrieval system inexpensive to purchase and has a short lead time to commissioning.
Tallbuildings

High payloads

Energy efficiency

Energy balancing

Energy recovery

Automatic stand-by mode

Low costs

High flexibility
Load capacity: up to 6,600 lbs. (3.000 kg)
Height: up to 147 ft. (45 m)
Min. aisle width: 41 inches (1.050 mm)
Travel speed: up to 787 ft./min (240 m/min.)
Horizontal acceleration: up to 3.2 ft/s² (1 m/s²)
Lifting/lowering: up to 262 ft/min (80 m/min.)
Vertical acceleration: up to 4.9 ft/s² (1,5 m/s²)
TeleFork single deep/double deep for pallets and conveyable boxes

Trough conveyor for round loads, e.g. fabric bales or paper rolls

ChannelCar Pallet

Load handling device for coils, rolls, cable rings

Multiple and special load handling devices possible
viaspeed - high-performance storage and retrieval system for miniloads
This solution provides high throughput, high density, and high energy efficiency which keep costs low in your automated small parts warehouse (AS/RS) and increases flexibility. This high-performance storage and retrieval system operates with high acceleration and travel speeds as well as load handling devices tailored to meet customized requirements. viaspeed provides the necessary flexibility and performance in your miniload warehouse with high dynamic values, energy-efficient drive and control technology.
Lightweight design, optional energy compensation or energy recovery, and standby mode offer you sustainable savings options. Faster and more economical with viaspeed: The precise distance measuring system ensures exact position determination. The SRM data can be transmitted via WLAN or data light barrier.
High dynamic values

Lowest start-up dimensions

High energy efficiency

Energy compensation

Energy recovery

Automatic stand-by mode

Low costs

High flexibility
Load capacity: 2 x 110 lbs. (

2 x 50 kg)

Height: up to 45 ft. (

14 m)

Min. aisle width: 33 inches (

850 mm)

Travel speed: up to 19 ft./s (

bis 6 m/s)

Lifting/lowering: up to 9 ft./s (

3 m/s)
BoxGripper

BoxCollector performance single deep

BoxCollector performance double deep

BoxCollector performance 2-/4 deep

BoxCollector universal
viaspeed XL - for taller heights and heavier loads in the miniload
viaspeed XL has the same great features as the viaspeed. However, thanks to its design and construction, it is particularly suitable for tall miniloads (up to 65 ft./ 20 m) and can move heavier loads of up to 660 lbs. (300 kg) with ease. It accelerates at 6 ft/s² (2 m/s² ) and reaches travel speeds of up to 16 ft/s (5 m/s). viaspeed XL can be used in a temperature range from -40 °F to +113 °F (-40 °C to +45 °C).
Large overall heights

High payloads

High energy efficiency

Energy balancing

Energy recovery

Automatic stand-by mode

Low costs

High flexibility
Load capacity: up to 660 lbs. (300 kg)
Height: up to 65 ft. (20 m)
Min. aisle width: 29 inches (750 mm)
Travel speed: up to 16 ft/s (5 m/s)
Horizontal acceleration: up to 6 ft/s² (2 m/s²)
Lifting/lowering: up to 6ft/s (2 m/s)
Vertical acceleration: up to 6 ft/s² (2 m/s²)
Working range from -40 °F to +113 °F (-40 °C to +45 °C)
TeleTable single deep/double deep

BoxCollector performance single

Deep/double deep

BoxGripper

ShelfMover

Multiple and special load handling devices possible

BoxCollector universal