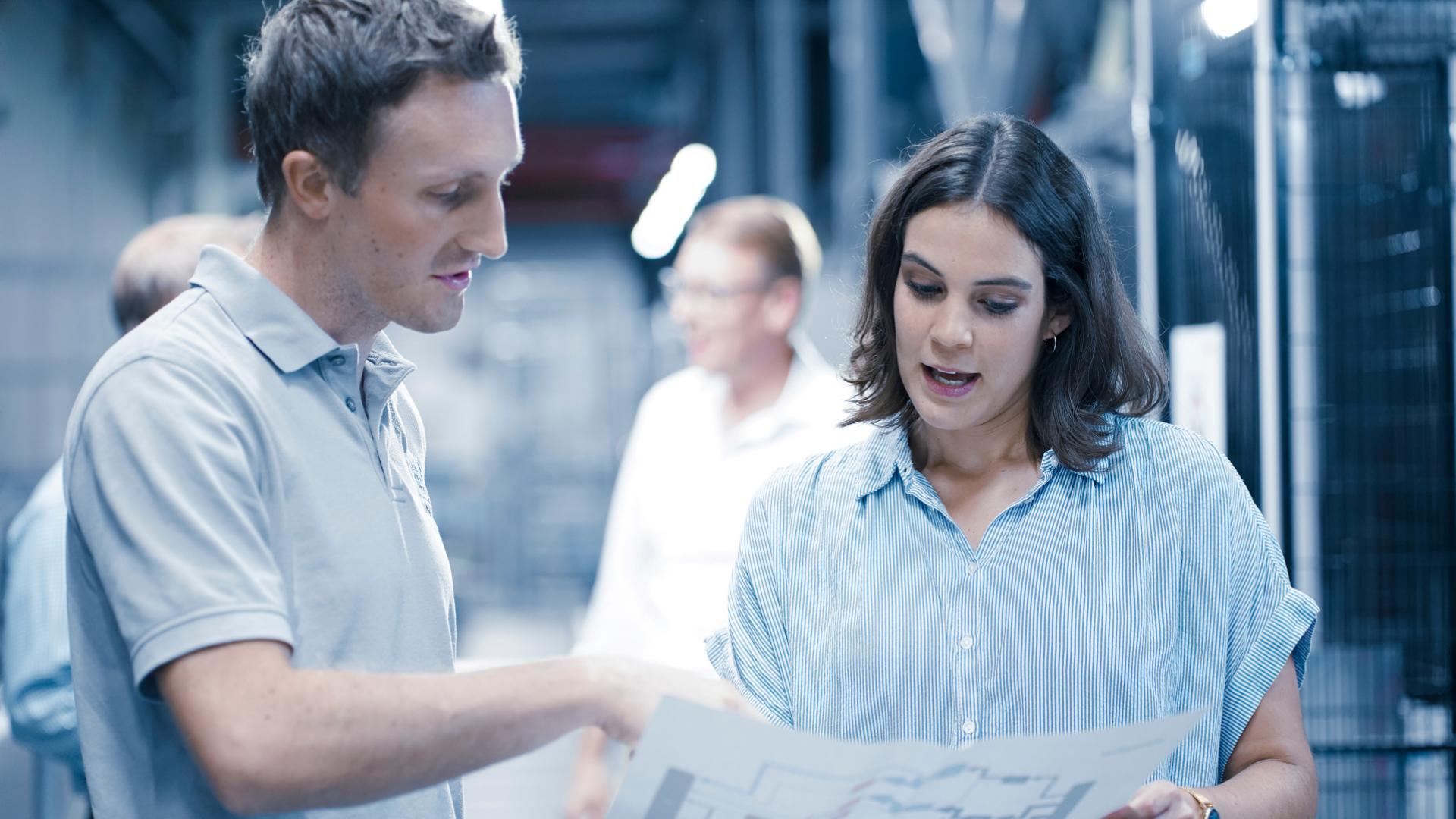 More productivity through smart material flow planning
Optimized material flows for existing and new logistics and production facilities
Increased profitability
Increased flexibility
Stable, smart processes
Reduced error rates
Optimal use of space in production and warehouse
Reduction of material and inventory levels
Increasing transparency
Shortened throughput and delivery times
Lower process costs
Lower capital commitment
The internal material flow is crucial for the efficiency of your processes and thus for the profitability of your company. This makes it all the more important that you plan and design your material movements smartly: How must goods and workpieces be transported so that they arrive in the right quantity at the right place at the right time?
Material flow planning is the basis for effective and transparent processes. Our experts support you in optimizing your material flow from goods receipt, through storage, to production and assembly, right through to shipping, effectively coordinating transport, storage and logistics processes. With proven standard packages for various scenarios, we plan in a technology- and manufacturer-neutral manner and can react flexibly to possible change requests at any time. True to the motto "as standardized as possible - as individual as necessary". Because your profitability is our top priority.
With our depth of experience in the implementation of systems, you also benefit from shorter duration of the entire project, since we can examine and consider many questions regarding the implementation as early as the planning phase.
Intelligent material flows in three steps
For material flow planning, we use our proven standard procedure:
The basis of the planning is the as-is analysis. In this analysis, we take the actual state of your plant and discuss your requirements and goals against this background. All numbers, data and facts are documented and serve from now on as a basis for all further planning steps.
In the second planning phase, the concept development, we design the future processes, derive the possible use of technology and degree of automation and develop a comprehensive concept for your requirements. The aim of this phase is to develop a scenario that is perfectly tailored to your needs, to understand how it will work and to estimate the implementation period and investment requirements. Our concepts are always neutral enough to serve as a basis for a tender.
Once a decision has been made to implement the project, we move on seamlessly to detailed planning. This step serves to plan the project, for example with regard to the design of the workplaces, the preliminary enquiries to possible suppliers for planned technologies, as well as the concretization of the budget up to the fixed-price offer quality. The planned scenario thus reaches a level of maturity that can be realized directly afterwards.
During planning, our experts also make use of technologies such as virtual reality and augmented reality, if you wish. This makes it possible to show you in the development phase by means of a virtual walk-through how the solution will look later on, or to test processes as well as the planned workstations and their ergonomics for practical suitability and economic efficiency - so that weak points are immediately detected and you get the best result in the end.
Talk to us!