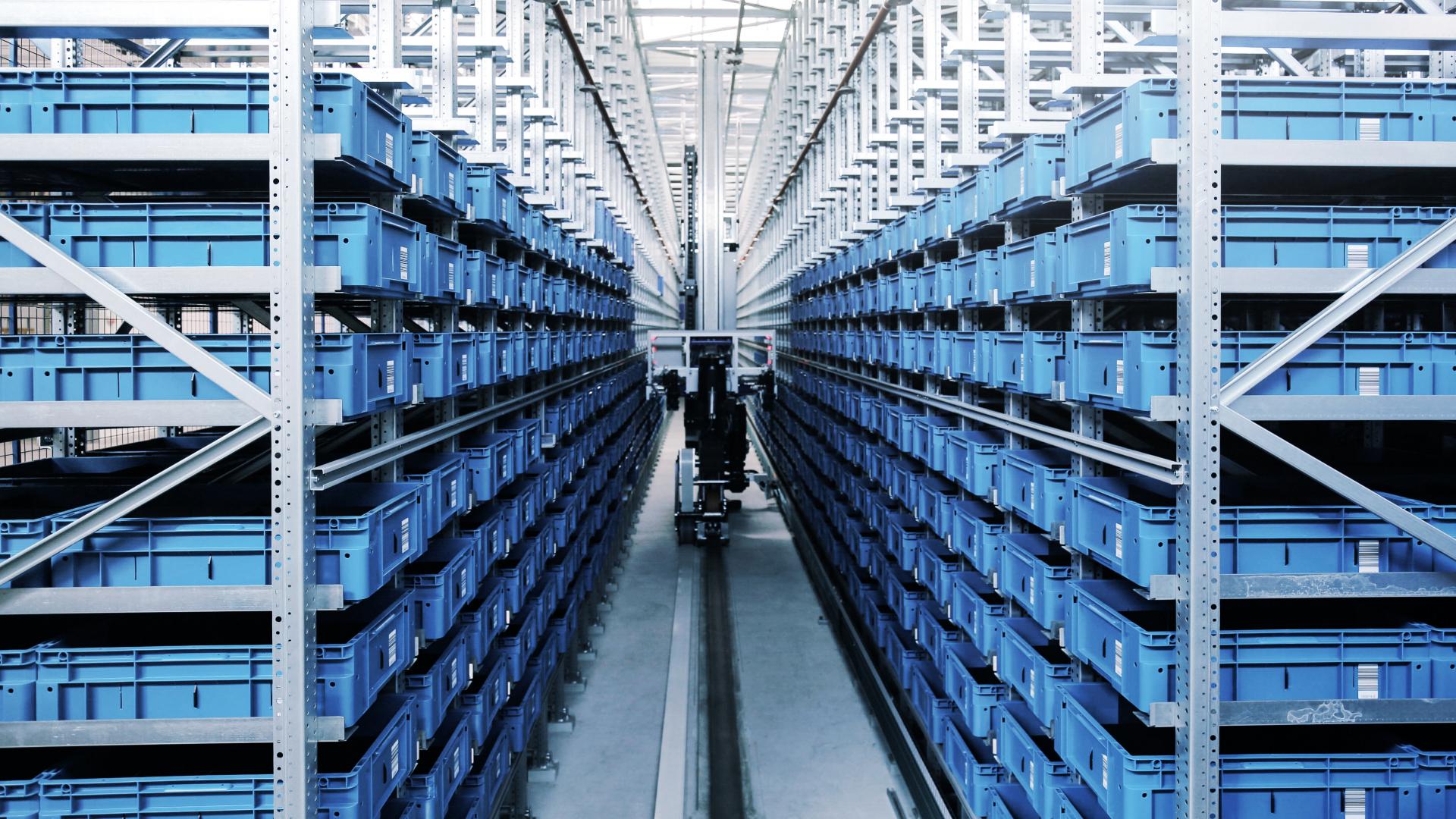 Automated mini-load system and small parts warehouse: short access times and high throughput
Automated small parts warehouse for compact storage and maximum turnover
An automated small parts warehouse enables you to store goods in containers and cartons quickly, flexibly and reliably. It offers short access times, optimal space utilization, high handling performance and optimal access to small parts. Automatic small parts warehouses are as individual as your requirements. They can be operated under normal temperatures, in a temperature-controlled environment or even as a deep-freeze warehouse and are used in as spare parts operations, order picking of small parts, or as buffer storage in a high-speed distribution warehouse.
Fast access times and high throughput
Space and cost efficiency through high storage density
optimal use of space
reduced error rate
Ein Automatisches Kleinteilelager (AKL) ermöglicht Ihnen eine schnelle, flexible und zuverlässige Lagerung von Waren in Behältern und Kartons. Zudem bietet es kurze Zugriffszeiten, eine optimale Raumausnutzung, eine hohe Umschlagleistung sowie den optimalen Zugang zu den Kleinteilen.
Jedes Kleinteilelager kann individuell an Ihre Anforderungen angepasst werden. Der Betrieb ist unter Normaltemperatur, temperaturgeführt oder als Tiefkühllager möglich. Zum Einsatz kommen sie als Ersatzteil-, Kommissionier- und Pufferlager oder auch als Distributionslager.
viastore

– Der richtige Partner für Ihr automatisches Kleinteilelager
viastore is the right contact for the planning, new construction or modernization of this type of facility. We plan, develop and implement your automatic small parts warehouse for the storage of small-volume units and deliver dynamic and energy-efficient storage systems that are precisely tailored to your requirements. We offer optimal solutions for the single, double or multiple deep storage of different containers and boxes, which can be transported extremely efficiently by shuttle or storage and retrieval machine, such as viaspeed. With various load handling devices, we ensure reliable handling of standard containers as well as individual load carriers. For a fast and efficient material flow as well as high throughput and maximum flexibility. Our WMS software viadat and our SAP logistics solutions manage, monitor and control all processes and thus significantly reduce the error rate.