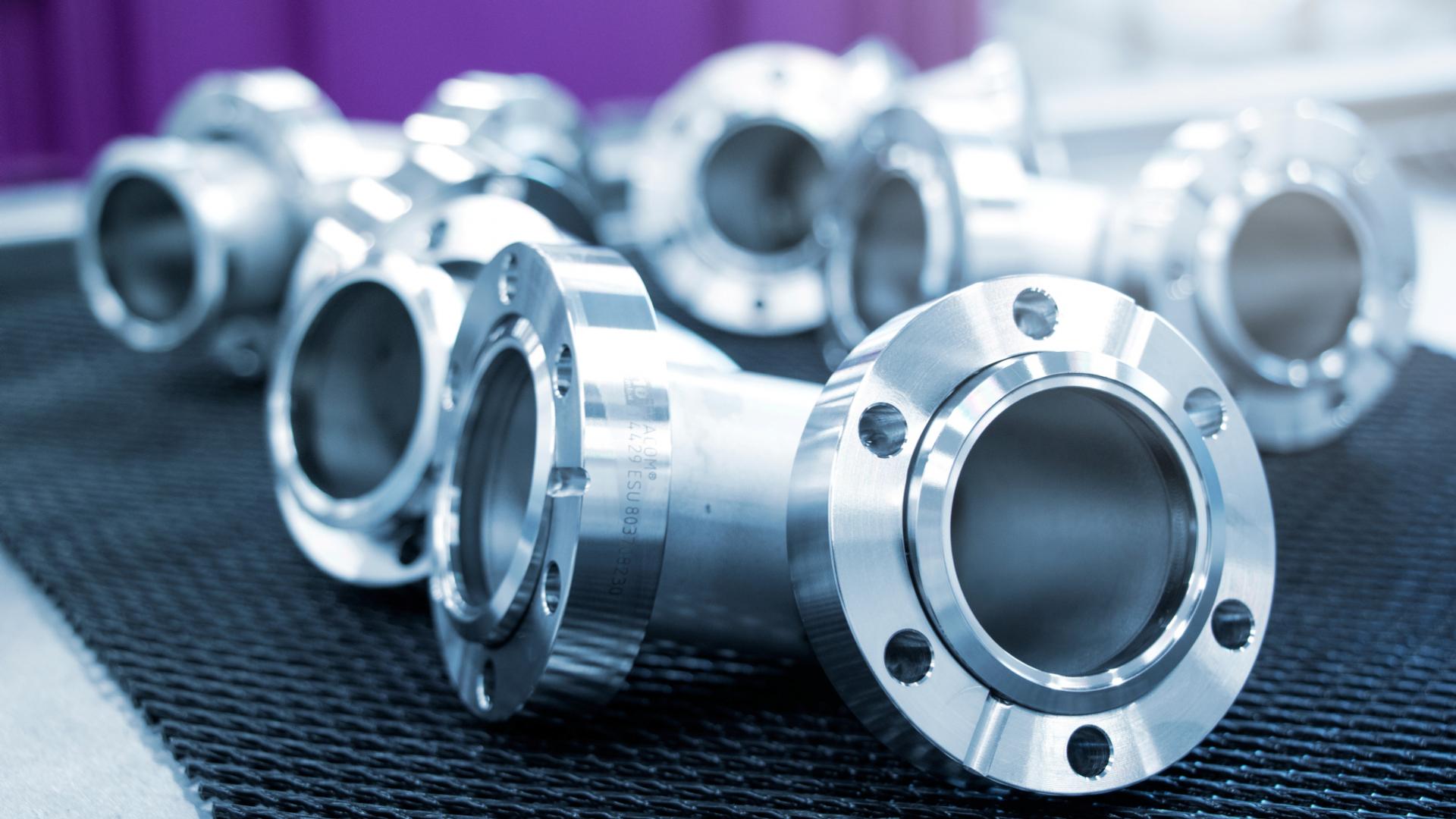 Logistics and production become one
Linking of WMS and MES creates prerequisite for a "Smart Factory"
"The more components we manufactured and the more complex our production became, the more it turned into a black hole," recalls Kevin Mahler, COO at VACOM GmbH. Founded in 1992, the Jena, Germany-based company manufactures products for high-vacuum to ultra-high vacuum applications. They have achieved great success in doing so, since ultra-clean vacuum components are needed in more and more sectors, including research, chip manufacture and the coating of optics and displays. Over the past year and a half alone, VACOM's workforce has increased by more than 100 people. As one of Europe's leading suppliers of vacuum technology, the company today employs approximately 350 staff and is currently hiring for another 120 positions.
Highly complex production
This rapid growth presents the company with new challenges: Managing processes efficiently while at the same time keeping track of everything requires a great deal of effort. "Our products are extremely complex – some of them consist of several hundred components," explains Mahler. Most of these components, such as flanges for example, are produced by VACOM in-house – with batch sizes of up to 1,000 pieces. "Complex products such as our spherical or cylindrical vacuum chambers are tailored to customer requirements." The typical batch size here ranges between one and a maximum of ten units – Kevin Mahler calls this "serial prototype construction". During the manufacturing process, the semi-finished parts repeatedly switch back and forth between individual work steps and machine tools. Conventional line production is therefore not possible. Even typical production control systems such as Kanban cannot be used at VACOM, because it rarely happens that identical components are required at a specific workstation. Therefore, VACOM employees had to collect all the required materials prior to order processing and then distribute them to the various machines and workstations involved.
Search for materials too time-consuming
"We put the semi-finished products and raw materials into production and received an end product," says Mahler. "But even though we knew what was happening in production, we did not know exactly where the individual materials were at a given point in time." It was therefore difficult for VACOM to react to changes. "Our employees had to spend more and more time looking for components and transporting them to their own workstations. Ultimately, it got to the point where there was at least one colleague per shift who didn't do anything else but look for material," summarizes Kevin Mahler. With a production team of only 50 people at the time, that was clearly too much.
On the road to a Smart Factory
VACOM therefore decided to transform its production into a "Smart Factory". To this end, Mahler and his team first generated a transparent factory: Using a digital twin, they defined how the individual components should run through the production process and which work steps were to be carried out. "Only then is it possible to see which part is where, what is currently being done and who is working on which machine," explains Kevin Mahler. The data derived in this way formed the basis for the second stage on the road to an intelligent factory – the creation of a responsive production process. Here, VACOM relies on the HYDRA manufacturing execution system (MES) from MPDV Mikrolab GmbH and on viastore SOFTWARE's warehouse management system (WMS) viadat, which was already in place in the existing automated warehouse. The joint management of data using WMS, MES and SAP ERP now enables the company to react quickly to changing customer requests or other needs.
The next step on the road to the Smart Factory followed in 2019: the self-regulating factory. Initially, Kevin Mahler intended to fully automate production logistics, including the use of transport robots. He turned to viastore to discuss the matter: "The experts there explained that transport robot management is a standard feature in viadat." However, this specific case involved the logistical supply of production. This meant that the WMS had to receive an order from the MES after each individual process step to be able to control the robots accordingly. Such a link between the MES and WMS systems did not yet exist as standard. But with the very goal of making this integration possible, viastore had previously entered into a strategic partnership with MPDV – the same software house that had supplied the MES used by VACOM.
The current viadat version has a standard interface that enables data exchange with HYDRA. "Other commonly used MES solutions can also be linked to the viadat WMS via this interface," explains Simon Kallinger, who managed the VACOM project for viastore. VACOM brought all participants together at one table to define the details on how to integrate the systems and determine which core competencies they should fulfill in each case. This resulted in the tight integration of both systems, "with the WMS, MES and SAP being equal partners, each having their own decision-making powers," emphasizes Kevin Mahler. "This means that the MES and WMS pass on information independently, without going through the SAP loop." They automatically control the tasks for the approximately 45 production workstations and six transport robots.
Two self-regulating systems
In this interaction of systems, SAP is ultimately responsible only for production order generation and transferring these orders including parts list to HYDRA. Detailed planning – which machine, which tool, which material, which employee – is done by the MES which subsequently transmits a parts list including production schedule to viadat. Based on the respective logistical needs of each operation, viadat then generates replenishment orders which are buffered in central storage areas in the production hall. This reduces the intermediate storage space required at individual workstations. Shortly before processing, the WMS issues a stock transport order and the material is brought to the workstation by a robot. Here it is again stored on small shelves before it is finally processed. In this way, the capacities of the machines can be optimally used. The operator places the finished order on an outbound buffer and scans it. This in turn triggers a command in viadat directing a robot to take the goods to the central storage area or directly to the next workstation. "viadat remains in action in between the individual work steps – MES and WMS communicate continuously with each other," explains Kevin Mahler. Simon Kallinger adds: "This means we have implemented a genuine just-in-time concept. viadat knows the capacities at the buffer stations and can therefore ensure that these are filled continuously so that the material is ready in time before the next operation."
Both customers and employees benefit
Kevin Mahler is convinced that this will result in a tremendous increase in efficiency for the staff at the workstations. "They no longer have to collect their own materials or carry around crates. Everything they need to perform their respective production step is delivered directly to their workstations. Setting up the machine and processing the components is all that remains to be done." This relieves the staff from strenuous and unpopular activities and allows them to perform only the work they were trained for and enjoy doing. This not only applies to the operators at the machines, but also to those who take care of production organization and handling. Thanks to the transparency resulting from the combination of WMS and MES, they always know where any material is at a given point in time and are informed about the capacity utilization of the machines and how far the processing of the product has progressed. "Their workload has been reduced many times over," explains Mahler confidently. "Human help is necessary only when the systems cannot solve certain problems on their own – for example, if a vendor part is missing in the warehouse. This means our employees no longer have to push crates back and forth, but have instead become problem solvers."
Significant increase in overall equipment effectiveness
VACOM's customers also benefit from smart manufacturing, as Kevin Mahler explains: "Inventory management has been optimized, while standstill and idle times have been massively reduced. Our capacity has increased while throughput times will continue to decrease. In addition, we can supply our customers faster." With the status of the self-regulating factory alone, OEE, Overall Equipment Effectiveness, has increased by between five and ten percent in VACOM's production. Kevin Mahler expects a further five to ten percent when the current optimization measure is completed, and he is certain that "Only those who can react quickly and flexibly to customer wishes without creating chaos will remain successful market players in the long term. In the future, it will no longer be possible to regard production and logistics in isolation."