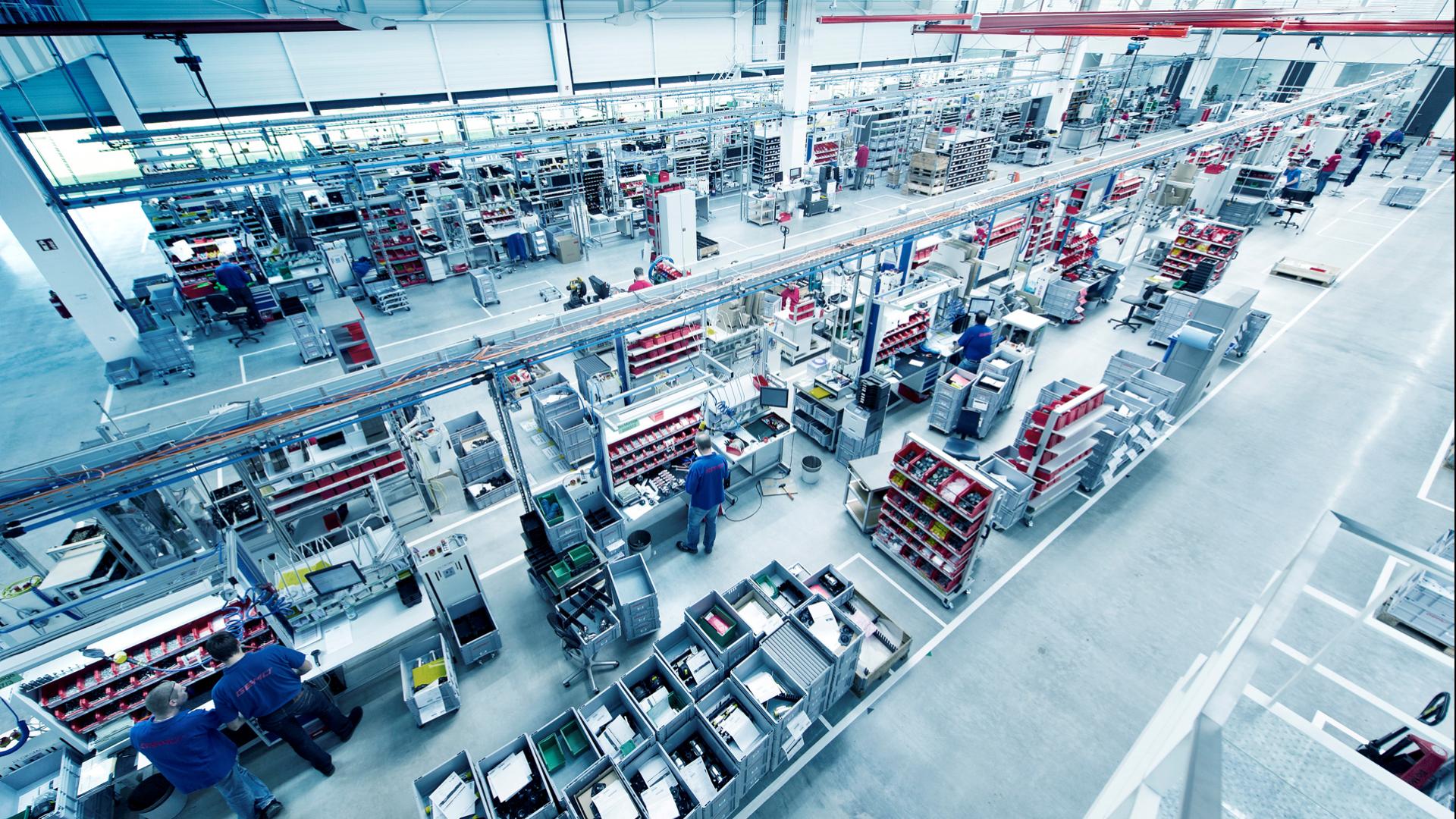 Efficient supply for production and assembly
Integrated material flows for the manufacturing industry

Increasing levels of customization, increasing product individualization, batch size of 1 – what has long been the order of the day in logistics means a real challenge for production. To ensure real-time transparency, reduce inventory levels in the warehouse and manufacturing, and react flexibly to different batch sizes and variants, it is advisable to take a holistic view of material flows in logistics and production, to network systems, coordinate workflows and integrate various software tools.
Reduction of of warehouse and work in progress inventory
Save storage space
Faster throughput speed
Improve economic efficiency
Increase competitiveness
A modern warehouse management system (WMS) optimizes warehousing, regulates the complete material flow, controls all processes and tasks, recognizes missing and high work in progress and inventory levels and adjusts them independently. By connecting the WMS to the Manufacturing Execution Systems (MES) you create the prerequisites for networking your material flows in logistics and production. This enables the demand-oriented supply and disposal of the machines and central storage in your production with the currently required items. Our standard WMS offers an interface to all common MES.
Even with targeted measures such as just-in-time, just-in-sequence, a milk run/tugger train or driverless transport system (i.e., AGV), your processes can be made leaner and more flexible while minimizing expenses at the same time. Reduce your work in progress and warehouse inventory in production and assembly, save valuable storage space, lower costs, increase throughput speed and improve the efficiency and competitiveness of your entire operation – even with small production sizes up to batch size one.
Increase effectiveness with simple means
Effective assembly and production supply is an important part of intralogistics. It encompasses in-house transport to the processing centers and assembly stations, handling, storage and provision as well as order picking. In order to avoid shortages during production and assembly, many companies hoard goods that they need at the installation site. This leads to a high – and costly – inventory, to an increased need for expensive storage and production space and to a lack of transparency, because you no longer know where which goods are ultimately located – circumstances that negatively affect performance, efficiency and profitability of the entire operation. For industrial companies, the right assembly and production supply has great cost and optimization potential. With targeted measures, you can make your internal workflows more efficient, safer and more cost-effective and thus also economically manufacture small lot sizes, improve your ability to deliver and thus increase your competitiveness.