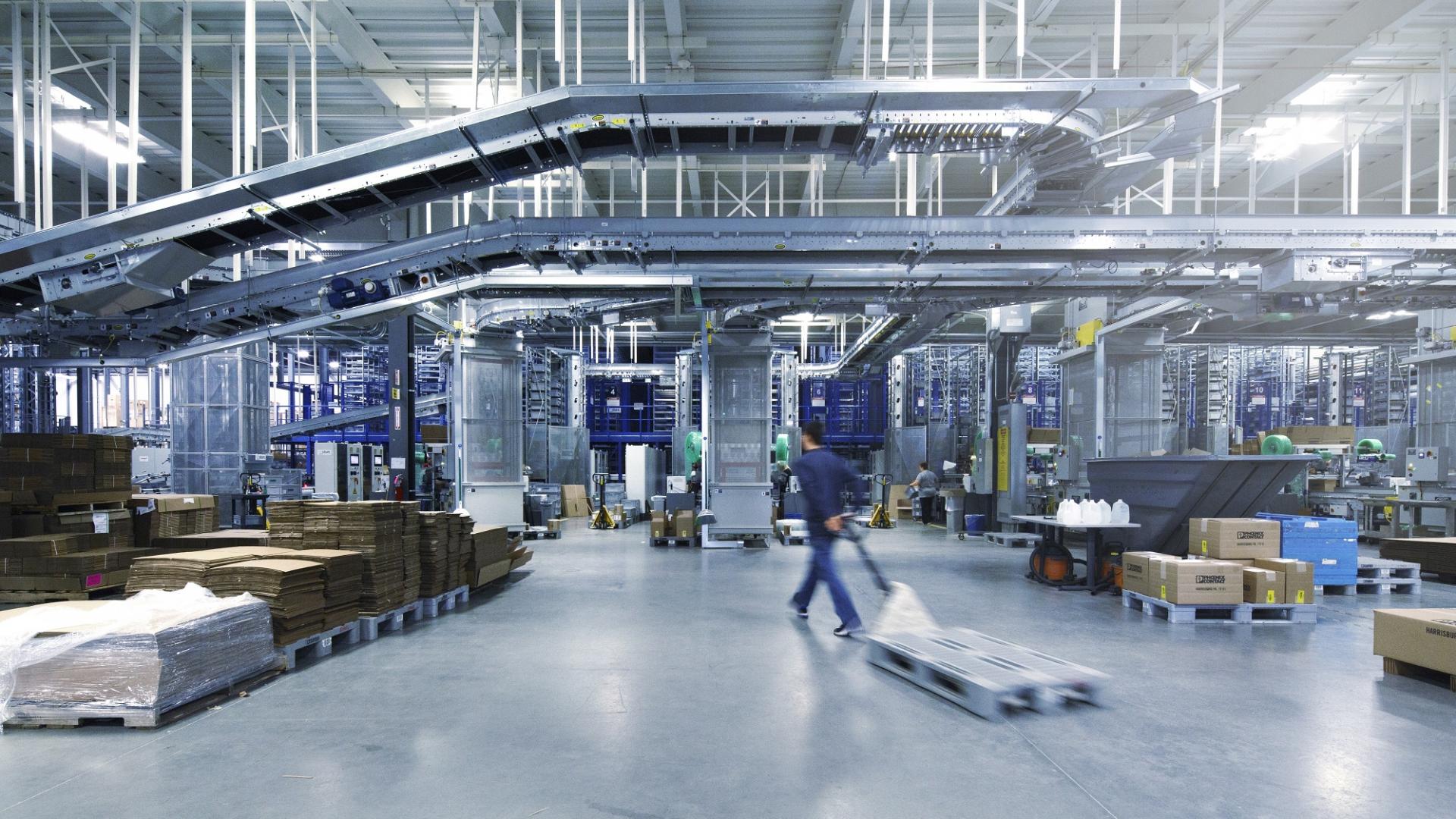 Expansion of distribution center for Phoenix Contact (USA) increases overall performance

The capacity of the warehouse has doubled
Throughput has been increased by 10 to 15 %
Ergonomics have been improved, increasing employee productivity
Picking capacity has increased by 40 %
The system is designed for further growth
Phoenix Contact already optimized the material flow at its subsidiary in the USA in 2008 with a fully automated distribution center from viastore. This was expanded for the first time in 2012. In 2017, the company had to expand its warehouse capacities again – the previous system had become too small for the increased volume of goods.
In all key areas – receiving, storage and retrieval, picking, packing and shipping – capacity utilization was at 90 percent.
The Harrisburg site serves as a regional hub for the North and South American markets. Therefore, the company needed to increase its storage capacity and throughput.
viastore reassessed the existing facility, including the planned capacity expansion. The result was a comprehensive redesign of the warehouse.
Since the facility is the sole hub of distribution activities, a temporary shutdown was out of the question during the extensive remodel. However, the redesign required several complex additions and cuts to the existing system.
Careful planning and clean communication were required to modernize the warehouse without interrupting ongoing operations. The viastore team was on site for several weekends to make the changes and get the system fully operational again in time for the first shift on Monday morning.
Additional palletizing robot and new goods receiving stations

Existing robot and conveyor technology can now also be used for palletizing and depalletizing

Four additional miniload stacker cranes

Additional picking and packing stations with improved ergonomics for employees increase productivity

viadat

software controls the entire logistics and production processes
Phoenix Contact significantly increased its capacity and efficiency with the redesigned warehouse: just a few days after commissioning the new system, the company achieved significantly better results in all areas – incoming goods, storage and retrieval, picking, packing and shipping. The additional depalletizing robot doubled the total goods receiving capacity.
The installation of four additional stacker cranes increased the storage and retrieval capacity by more than 50 percent. In the picking and packing area, stations were arranged so that employees no longer have to lift crates, totes or cartons while twisting and turning.
The improved ergonomics contribute to higher productivity, and the additional stations increased picking and packing capacity by 40 percent. The additional robotic lifts, which lead to a conveyor system with gravity chutes, increase throughput by ten to 15 percent.
We've added much needed capacity in our logistics center to support the growth that we expect going forward in all phases. This sets us up for the next decade to provide a competitive warehouse operation that supports our customers. We couldn't have done it without the support of the viastore team.
Learn more about our solutions for your industry