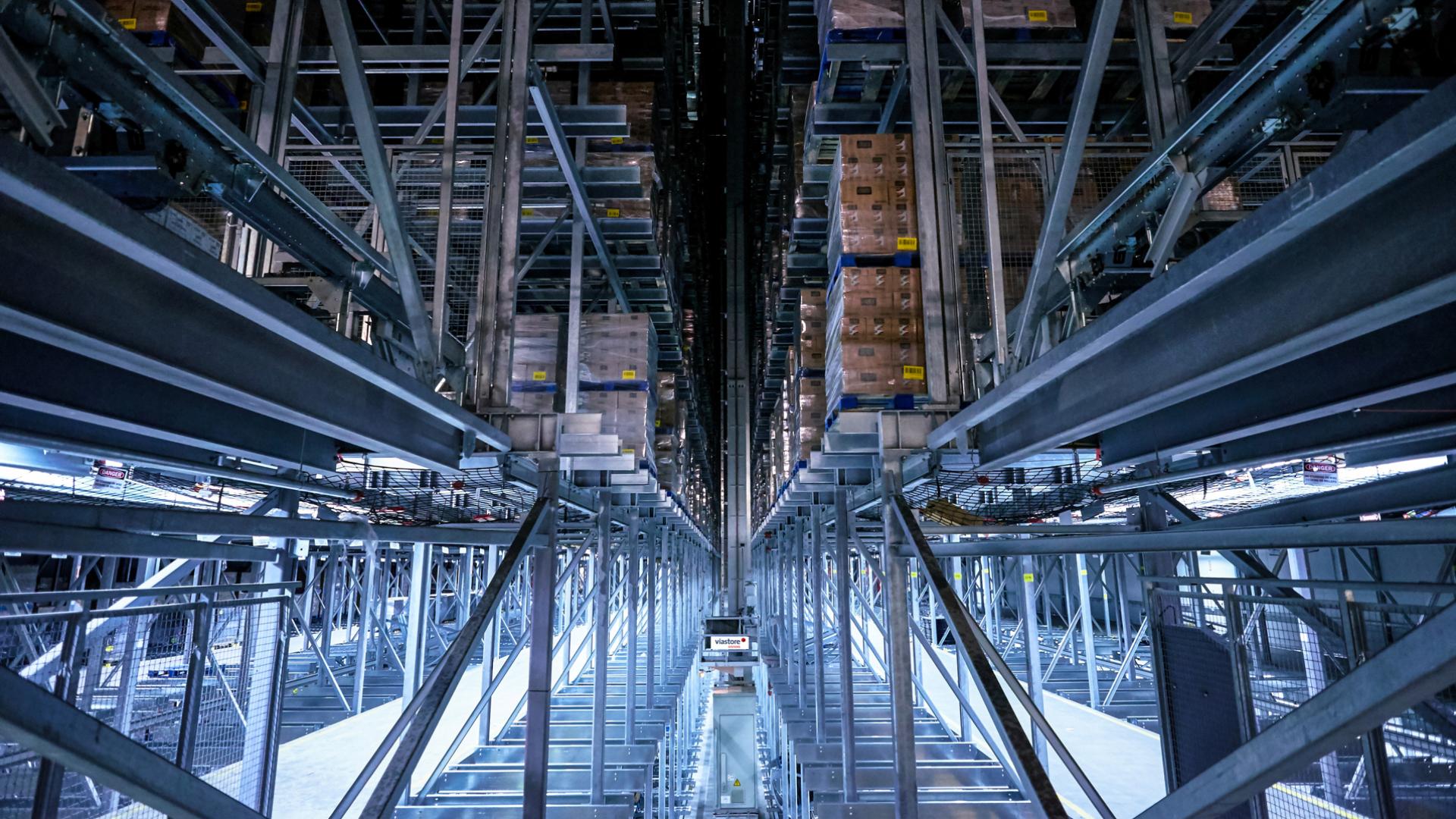 Four Ways Automated Pallet Storage Solves Throughput Issues in Frozen Product Storage Areas
Considerations for Automation in Frozen Product Storage
With the global frozen food market predicted to grow to $380.5 billion (U.S. dollars) by 2027, warehouses currently using manual processes in their frozen product storage areas are compelled to consider material handling automation. That's because automated storage and retrieval systems (AS/RS) provide superior performance opportunities for slow, medium and fast-moving frozen products by enhancing material handling practices in four ways: dependability, repeatability, reliability and expandability.
1. Dependability
Frozen product storage areas are generally considered harsh working environments. Frozen product storage temperatures may range for a few degrees above zero (°F) to (-10 °F), (-20 °F), and (-35 °F) on biomedical materials.  For operations relying on workers to transport pallet pallets of product into and out of the freezer zone—as well as maneuver the loads inside the freezer with forklifts or pallet trucks—inconsistent availability of labor can dramatically impact capabilities of an operation to meet the high service levels demanded by its customers. Associates may call in sick, or a facility may have difficulty filling job openings, causing a decrease in handling capacities. An AS/RS, on the other hand, is highly dependable and capable of operating around the clock without interruption. For personnel, frequent breaks outside of the freezer are required in support of safe working conditions.
2. Repeatability
An AS/RS applied in a frozen pallet storage application is designed to perform the same handling operation over and over, at a consistent rate and without interruption.  With a high level of repeatability, facility management can plan workflow anticipating the automated input and output cycles of the system with a high level of confidence.  Alternative planning, due to absenteeism, Monday after the Super Bowl, or just a disgruntled employee is no longer necessary, allowing management to focus on the planning to achieve its customer's high expectations. Achieving a routine and predictable rate of throughput improves scheduling, accommodates seasonal demand spikes, supports additional inventory for special promotions, and more accurately forecast sales. Simply put, ASRS is a management tool.
3. Reliability
Built with mechanical and electrical components that are designed to withstand the punishing temperatures of a freezer space, automated pallet handling is extremely reliable, delivering up to 99.98% operating efficiency. Further, automated material handling systems don't make mistakes. With an automated system, the placement of a pallet in a specific storage location is directed and monitored by the warehouse management system (WMS) and warehouse control system (WCS).  Performing a physical inventory audit in the freezer is no longer a financial requirement with highly reliable software and automatic put away and retrieval on the inventory.
4. Support for Further Automation
ASRS by itself provides certainty of dependability, repeatability and reliability.  But did you know that ASRS is a catapult for other areas of improvement within the warehouse and distribution operation? In fact, as warehousing operations are providing more and more value-add services for their clients (i.e. layer picking, deliver by exact weight, FIFO, FEFO, case pick, etc.) it requires more and more movements within the warehouse to accommodate each order individually, with high accuracy, and within the delivery times expected. These extra movements to support these value-add functions, in a manual environment, will require additional staff and likely day to day staff inconsistencies creating scheduling difficulties. On the other hand, an ASRS will support these activities through coordination and planning from management. Work smarter not harder.
But wait, there's more. While not specifically related to throughput, high-density, rack-supported pallet AS/RS systems make full use of the overhead space within a freezer, up to 148 feet. That means more pallets of product—as dense as 10 deep in a channel storage configuration—can be stored in a smaller footprint, contributing to greater energy efficiency and maximizing the dollars spent to keep an area at sub-zero temperatures. This means less "heat loss," as the facility's overall roof space is much smaller than that of a traditional cold storage facility. Storing more frozen items closer together, with less air space within a given area, helps maintain temperature consistency, reducing draw on the chiller unit itself.
Further, by automating pallet entrance and exit from the freezer, a smaller opening can be employed—as opposed to the larger opening needed to permit an operator to drive a forklift into and out of the space. This minimizes the amount of warm air entering the temperature-controlled zone, cutting energy losses.