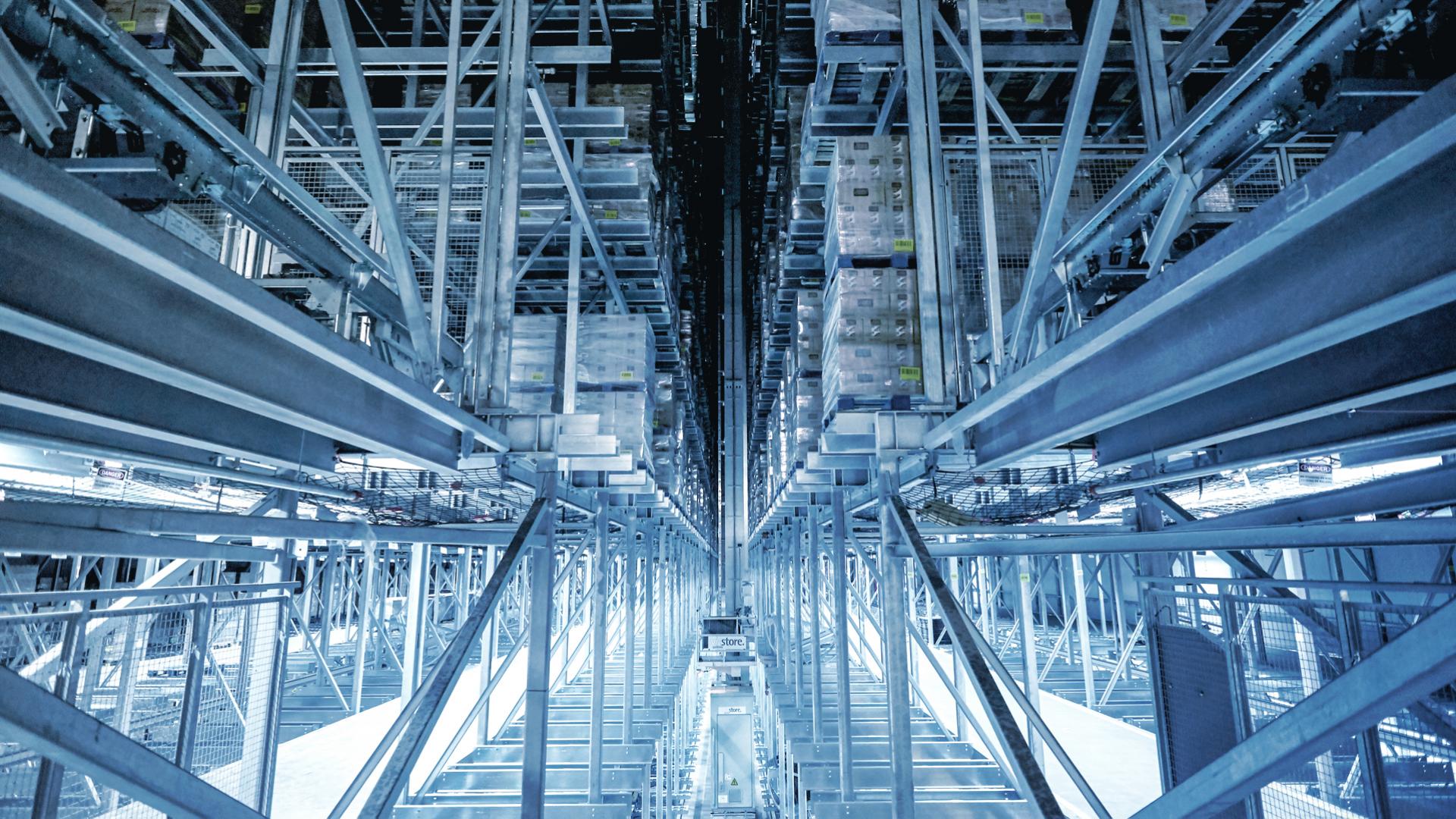 Americold Upgrades Cold Storage ASRS

Increased labor efficiency by 25%
Case picking reduced by 50%
Increased safety
Flexibility to respond to the needs of their customers
Why did Americold upgrade their automated cold storage facility?
Americold, a leading global third-party logistics (3PL) provider of temperature-controlled warehousing and logistics services to the food industry, needed to expand its Indianapolis, Indiana facility space to better serve regional customers. Americold worked with viastore in 2011 to design a system that would help them fulfill their customers distribution needs. The system included a 21,000 pallet location, 110-foot-tall rack-supported building with conveyor-fed pallet-handling automated storage and retrieval system (ASRS). That project gave Americold the capability to automatically replenish multi-level order picking positions integrated into the racking structure. The high performance pallet conveyor system automatically received and checked pallets for storability, put them on pallet boards if necessary and delivered pallets in and out of the system for storage, export staging and order replenishment. The building has two temperature zones that are both designed to operate as either a cooler or a freezer with just a change of the oil in the motors and reducer drives running the cranes and conveyors. Americold is constantly reviewing solutions that will enable greater efficiencies and advancement to meet customer demand; ASRS play's an increasing role in improving capabilities. In 2014, Americold recognized a change in requirements from customers, which required them to improve case and pallet picking rates.
What did the upgrade include?
Utilizing simulation software, viastore worked with Americold to identify an upgrade solution that would meet their new operational needs. The selected solution included a dedicated de-coupling area in order to eliminate the extra labor required to decouple the stacked half-pallet loads. Further, the conveyor system was modified to provide multi-direction crossovers. That enables pallets to be more quickly returned to the ASRS cranes or exit the system, as well as better accommodating both inbound and outbound inventory surges - reducing congestion on the conveyor loop. Additionally, the design repurposes the pick tunnels to accommodate pack and hold orders ready for shipment. Another enhancement was to the picking process called PackandHold. PackandHold allows pallets that are ready to ship to be stored in a separate level in the ASRS. This allows more flexibility in labor and decreases the time to load outbound trailers. Finally, the software interfaces were modified for more timely communication between the viadat ASRS control system and Americold's RedPrairie WMS.
6-asile triple deep storage
110-foot-tall rack-supported building
Additional 21,000 pallet locations
Conveyor-fed pallet-handling viapal ASRS
Internal case pick capacity with high rise
Auto replenish multi-level order picking
Double stack pallet separation
2 changeable temperature zones
The results: Productivity boost and labor efficiency
Almost immediately upon completion of the upgrade, Americold was able to better manage the needs of their customer more effectively and with less labor. Their case picking has been cut by 50%, now that half-pallet picks go directly to shipping; instead of being 38% of the handling work required for that customer, they are now down to around 18%-19%. Also, labor efficiency has been increased by 25% mostly due to the elimination of handling steps. From an ergonomic perspective, adding the semi-automated de-coupling area has eliminated exertion for operators while case picking, increasing associate safety. Further efficiencies have been documented in throughput. Crane capacity per day has increased by 43% year over year. Although the ASRS is currently dedicated to a large key account customer, the upgrades have added enough flexibility within the ASRS that it could be easily adapted to handle the needs of as many as 10-20 customers.
You need people with an in-depth knowledge of automated system capabilities and software interfaces. This includes good engineers, project managers and IT design talent who understand that you can't run an automated system the same way you run a conventional system.
Learn more about our solutions for your industry