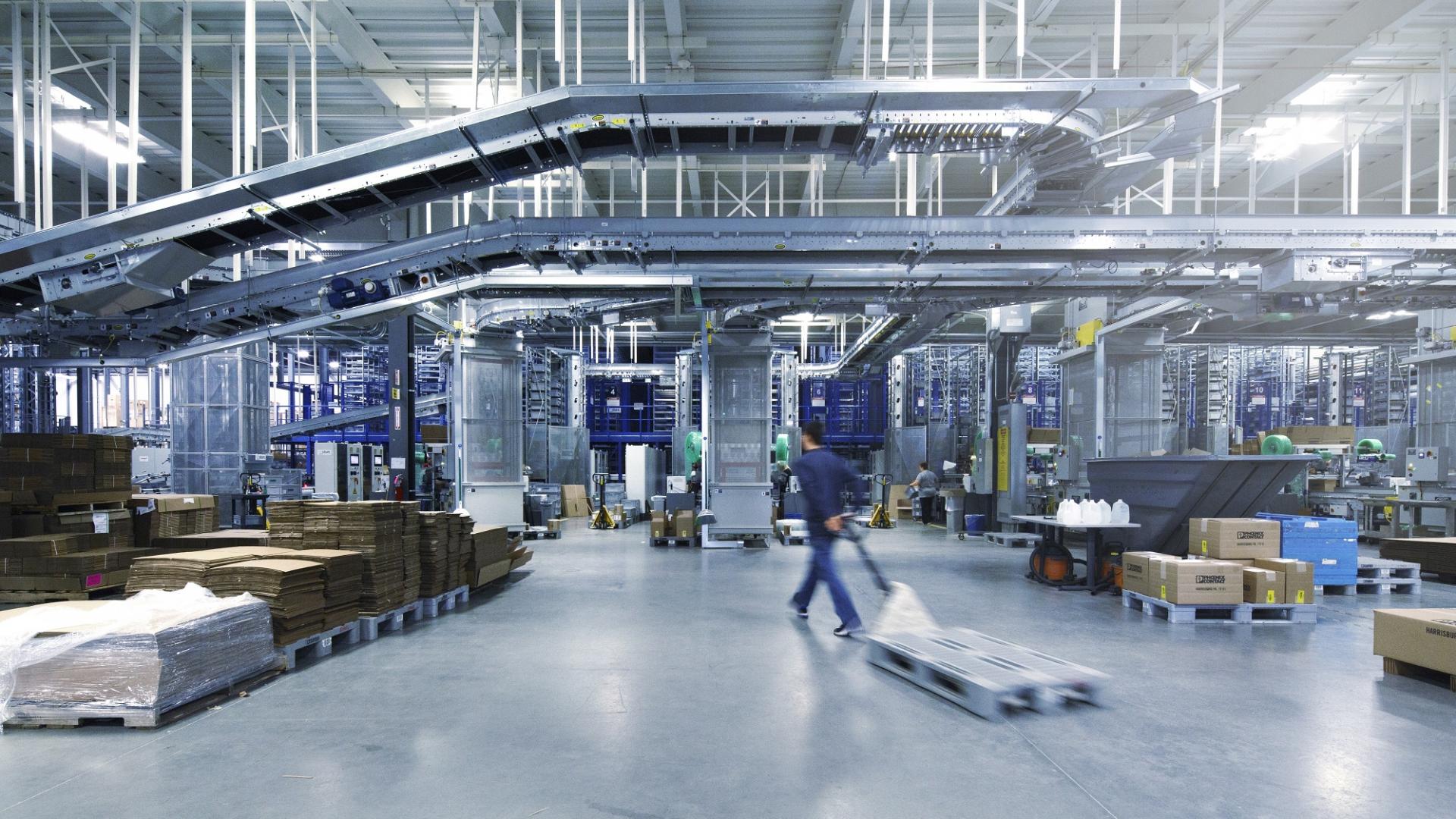 Phoenix Contact Expansion Increases Capacity across Entire Operation

Doubled entire receiving capacity
Increased storage and retrieval capacity by 50%
Improved worker ergonomics and productivity
Increased pick/pack capacity by 40%
10-15% throughput gain
System allows for continued growth
Why did Phoenix Contact expand their automated distribution center?
Phoenix Contact, a developer and manufacturer of industrial electrical and electronic technology products, built their fully automated distribution center in 2008. The original viastore automated solution was expanded in 2012. But by 2017 the company was experiencing a lot of growth in the industry and also expanding their fulfillment footprint both inside and outside of the Americas region and were quickly outgrowing the current system.
They were at 90% capacity across every major area – receiving, storage and retrieval, pick/pack and shipping. As the regional hub for both North and South American marketplaces, the company needed to increase their storage capacity and operational throughput in order to meet the growth they were experiencing.
What did the expansion include?
viastore reassessed the facility, as well as Phoenix Contact's future growth plans, and developed an extensive system redesign. Because the facility is the sole hub of distribution operations, shutting down the facility to accommodate the extensive automated system modifications was not an option. Yet the redesign called for multiple, complex additions and cut-ins to the existing system that would typically require precisely that scenario.
To accomplish the retrofit without interrupting day-to-day operations careful planning and ongoing, regular communication was important. It also called for a phased execution schedule that brought the viastore team on-site several times over weekends to cut-in the modifications, then restore the system to full, functional operation in time for Monday morning's first shift.
An additional robotic depalletizer and new receiving stations were added

Existing robot and conveyor was converted to support dual purposes (palletize and depalletize)

Four additional mini-load AS/RS, bringing the total to 11 aisles

Redesigned and added pick/pack stations to improve worker ergonomics

Optimized overhead space with an elevated conveyor sortation system

Upgraded WMS/MFC software which controls the ASRS as well as the conveyor transportation system
What is the benefit of the expansion?
The results: Increased capacity and efficiency. Within days of going live with the new system they were already seeing results across all four areas. Adding another robotic depalletizer effectively doubling their entire receiving capacity, while installing four more AS/RS cranes increased their storage and retrieval capacity by well over 50%. In the pick/pack area, the existing and new stations were all configured into a new layout. This eliminated the need for workers to move boxes, totes or cartons, or to twist and turn to stack and unstack them. The enhanced ergonomics also supported greater productivity and the additional stations increased pick/pack capacity by 40%. In addition, the added robotic lifts which lead to a conveyor sortation system with gravity chutes gave them another 10-15% throughput gain.
We've added much needed capacity in our logistics center to support the growth that we expect going forward in all phases. This sets us up for the next decade to provide a competitive warehouse operation that supports our customers. We couldn't have done it without the support of the viastore team.
- Doug Ferguson, Vice President, Americas Operation at Phoenix Contact.