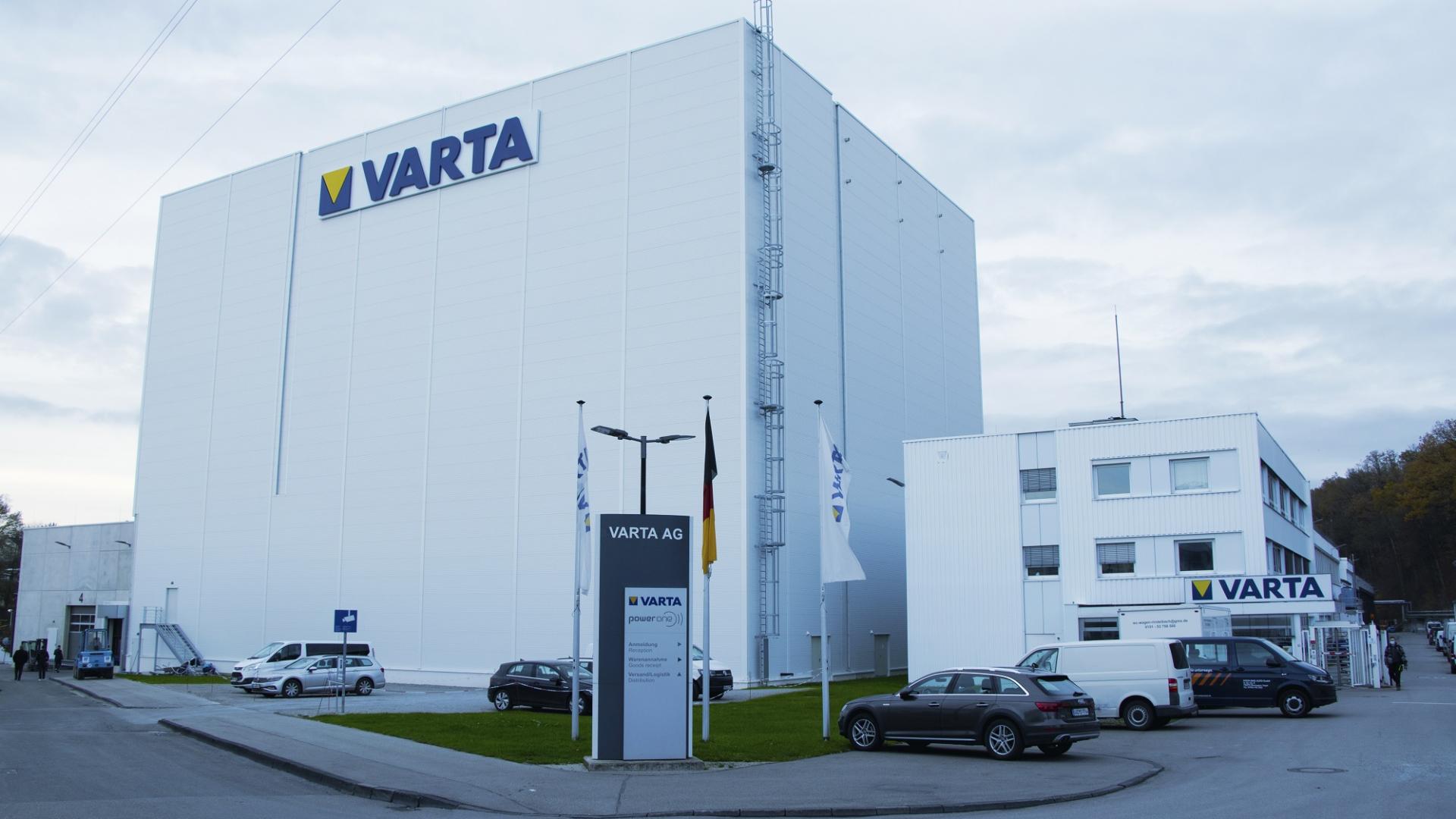 New Energy For Intralogistics
viastore
SETS UP AUTOMATED WAREHOUSE WITH SAP EWM FOR VARTA
The networked world, with its multitude of smart devices, requires ever lighter and more powerful energy sources. VARTA supplies suitable solutions for exactly this: The Company offers a wide range of battery cells in a variety of sizes and electrochemicals as a customized energy supply for a wide variety of applications - including the highly sought-after lithium-ion button cells, which are used in wireless headphones, for example. The Ellwangen plant in Baden-Württemberg alone produces more than one billion battery cells annually - including hearing aid batteries and watch cells as well as the small lithium-ion batteries called CoinPower. Lithium-ion technology, in particular, has made a significant contribution to the company's enormous success in recent years
"With our previous processes we have been downright overwhelmed by this growth", explains Markus Berreth, Manager Warehouse & Distribution at VARTA. Especially since customer demands have also risen steadily in recent years and require intralogistics that enable the company to react quickly and flexibly. The previous intralogistics concept based on the "person-to-goods" principle had reached its limits: "Our order picking and packing process was very much based on the knowledge and skills of our employees, who determined the picking and sorting sequence based on their experience. At the same time, storage was spread over a larger area," Berreth recalls. Because the storage space was no longer sufficient, due to the rapid growth, additional block storage areas had to be set up wherever space was available. "This meant that our employees had to spend a lot of time on the picking process," adds Benno Diemer, who used to be warehouse manager himself at the Ellwangen site and now uses his operational know-how to work as an IT EWM specialist.
In 2018, VARTA finally took the logical step and decided to reorganize its processes and invest in automation and height: "Due to the required storage capacity, the decision to build an automated high-bay warehouse was quickly made," reports Markus Berreth. "It was to centralize plant logistics, serve production, and function as a shipping and finished goods warehouse. VARTA commissioned the intralogistics expert viastore SYSTEMS from Stuttgart to implement the new warehouse. "The chemistry was right from the very beginning," explains Bernd Geiger, Head of Supply Chain Management at VARTA. "In addition, viastore had several suitable reference projects that we were able to inspect. All in all, viastore offered an all-in-one package including warehouse and conveyor technology as well as the corresponding software for warehouse management". The general contractor offered two software solutions from a single source: Either the intuitively operated viadat Warehouse Management System (WMS) from the sister company viastore SOFTWARE or the implementation of the entire warehouse management and material flow control system with SAP EWM in partnership with the Dortmund software and consulting company prismat.
Warehouse Management with a View to the Future
This SAP orientation was a major reason why VARTA wanted to work with viastore: After all, SAP is used as the ERP system at the Ellwangen site and the company wanted a consistent SAP solution. "We plan to switch to SAP S/4Hana in the next few years. Therefore, it makes little sense to connect a warehouse management system such as viadat to SAP WM now if SAP WM will not be available in S/4Hana afterwards", Roland Kraft, Manager SAP Operational Processes, underlining the decision to control the new warehouse with SAP EWM (Extended Warehouse Management). "EWM brings along many functions that we previously had to program ourselves in SAP WM. In addition, the software runs under the SAP version currently used by us as well as under S/4Hana in the future - everything that EWM now maps can basically continue to run under S/4Hana. New programming work is therefore not necessary".
Faster implementation thanks to standard interface
viastore was also able to offer an efficient solution for connecting the new automated high-bay warehouse, explains Dennis Schöck, Project Manager at prismat: "As part of our close strategic partnership, we jointly developed a standardized interface between SAP EWM MFS and the viastore PLC. This enables telegrams to be exchanged directly between EWM and PLC". Without this standardized interface, the communication between controller and software would have had to be individually programmed - an effort that is no longer necessary thanks to the partnership between viastore and pismat. "We only had to carry out configurations, which meant that the implementation effort was limited to the customer-specific requirements," says Schöck, describing the advantage for VARTA.
The SAP EWM MFS communicates directly with the warehouse technology supplied by viastore: Information is exchanged with the control system - which consists of a conveyor technology loop that serves three picking stations with a total of six pallet stackers, a cross-distribution cart, three inspection stations, two separate goods receiving areas each with its own "not in order" station (NIO) as well as a fully automated pallet wrapper and the outgoing goods department. "We have also integrated a weighing workstation where the pallets packed for dispatch are weighed and compared with the target weight stored in SAP EWM," concretizes Schöck. Necessary adjustments to the SAP system particularly affected the web applications at the various workstations, he explains: "We implemented the interfaces according to VARTA's individual requirements. Furthermore, the degree of coverage in the SAP-EWM standard is very high".
Central element in the company
SAP EWM communicates with the automated storage and retrieval machines (AS/RS) via another PLC. "Euro and industrial pallets are stored double-deep in the four aisles of the high-bay warehouse, with spaces for four different height classes," explains Gregor Rentschler, viastore project manager. A total of 9,728 storage locations provide sufficient space for the storage of battery cells in the most diverse production stages - from half parts to batteries packed ready for shipment. "A large number of production areas have points of contact with the high-bay warehouse", says Markus Berreth, describing the central role of the warehouse for VARTA. Various storage and retrieval strategies are implemented in SAP EWM: For example, products are distributed evenly across the four aisles during storage so that everything is always accessible. Double-deep batch-clean storage is also possible. Among other things, retrieval can be carried out according to the FIFO principle (First In - First Out) as well as according to production date. In addition, the handling units can be delivered to the picking workstations sequenced by transport unit, delivery orders and weight. "SAP EWM already brings a number of innovations here, but in SAP WM we would have had to program a number of things individually," explains Benno Diemer.
More performance for VARTA
The new warehouse went into operation in July 2020. "An extremely short project time, considering that the decision to build it was not made until 2018," emphasizes Gregor Rentschler. Markus Berreth adds: "Our goal was that neither our customers nor our production areas would notice anything of the restructuring. We have achieved this - despite the high growth rate". Even though the warehouse staff needed some time to get used to the new processes, the acceptance of the logistics system is extremely high, Markus Berreth describes: "The logic and sorting sequence is now completely system-supported, which increases the speed enormously. The goods-to-person principle saves a lot of time, as Benno Diemer can report from his own experience: "Today we can handle significantly more picking processes per employee. The conclusion of Fabian Stock, Head of Business Development at VARTA, is also very positive: "Without the excellent cooperation of all those involved - warehouse, logistics and SAP team, plant planning and building services as well as the team of architects around general planner Koch Architektur included - this project would not have been so successful. The entire team shone with its pragmatic, agile and fast working methods. We would like to thank everyone involved - especially viastore and prismat".