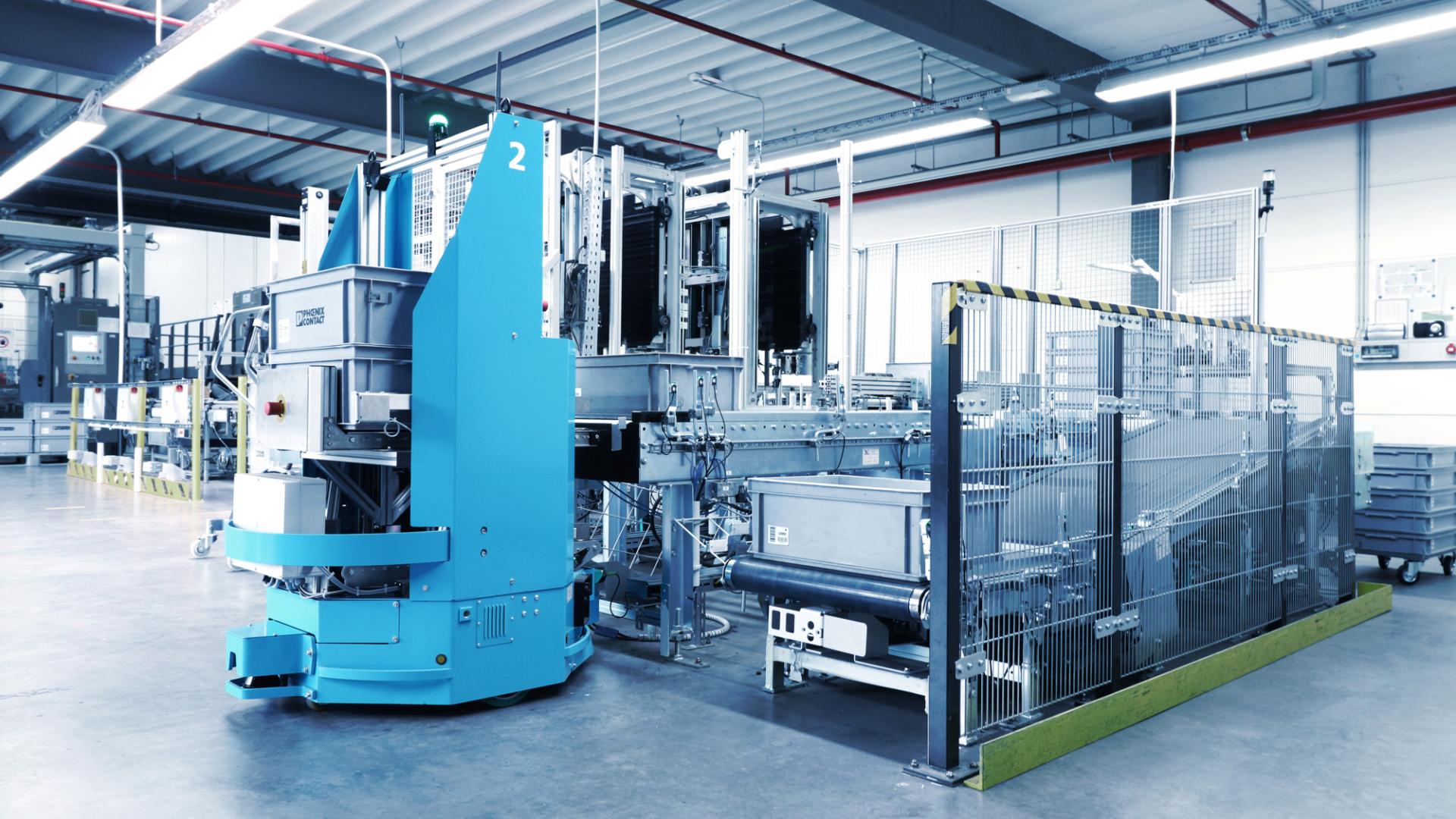 New material flow concept at Phoenix Contact reduces work-in-process inventory and creates space

More flexibility thanks to automated guided vehicle system (AGV)
Production supply designed for larger quantities
Automated guided vehicle system integrated without disrupting ongoing production
Automatic loading and unloading station
Perfect interaction between all components – from the mechanics to the various software systems
Work-in-process inventory reduced by 85 percent
Efficiency potential increased
There is one trend that concerns almost all manufacturing companies today: Customers are increasingly placing orders in smaller and smaller batch sizes. At Phoenix Contact, quantities range from 100 up to 100,000 units. Only about 20 percent of the products are produced in large batches, the rest are small quantity orders. In the past, organizing transport was more or less intended for process throughput and mass quantities and is only efficient with the least possible number of trips.
The company sought to provide a continuous, demand-driven and more flexible supply of production. The alternative would have been to conduct more transport runs with less loads requiring even more staff – a solution that is anything but efficient. To be able to manufacture even small batch sizes efficiently in the short term, the PCC business unit introduced an automated guided vehicle system for production supply. As a result, there is 85 percent less work-in-process inventory, more space for additional production equipment, and less physical strain on employees.
The parts are transported to the production machines with mobile robots. In doing so, they pick up multiple bins in stacks at one time. The conveyor system at the automatic miniload system (MLS) is modified so that the bins with the picked parts are automatically transferred to the AGV. viastore installed two stations for this purpose: One for empty bin logistics – the robots take empty bins for production. The second works bidirectionally; the vehicle delivers stacks of bins and takes filled miniload systems (MLS) for production. The bins are stacked automatically in a separate area.
viastore defined interfaces among the different software systems – from SAP to the viadat warehouse and material flow system to the PLC of the conveyor system plus the handshake used to control the vehicles. Warehouse management system, material flow computer and conveyor system controller are also coordinated to one another.
Automated guided vehicle system with automatic connection to the mini-load warehouse and the production lines
Storage and retrieval possible from both sides
Two transfer stations: one for empty bin logistics, the second for the transfer of empty and full bins respectively
Separate area for automatic bin stacking
Defined interfaces between warehouse management system, material flow computer and conveyor system controller
The integration of the AGV successfully reduced the areas reserved for the work-in-process inventory. In addition, it eliminates handling around the trolleys – saving even more floor space.
Another benefit: Employees no longer have to lift the bins – AGVs and the transfer station at the MLS take care of that. Also new is that the employees at the production equipment now trigger the orders for the material, not the MRP controllers via SAP as in the past.
Because the AGV is now connected automatically to the MLS, we have been able to leverage significant efficiency potential and remain flexible for the future – irrespective of how customer requirements develop in terms of batch sizes.
Learn more about our solutions for your industry